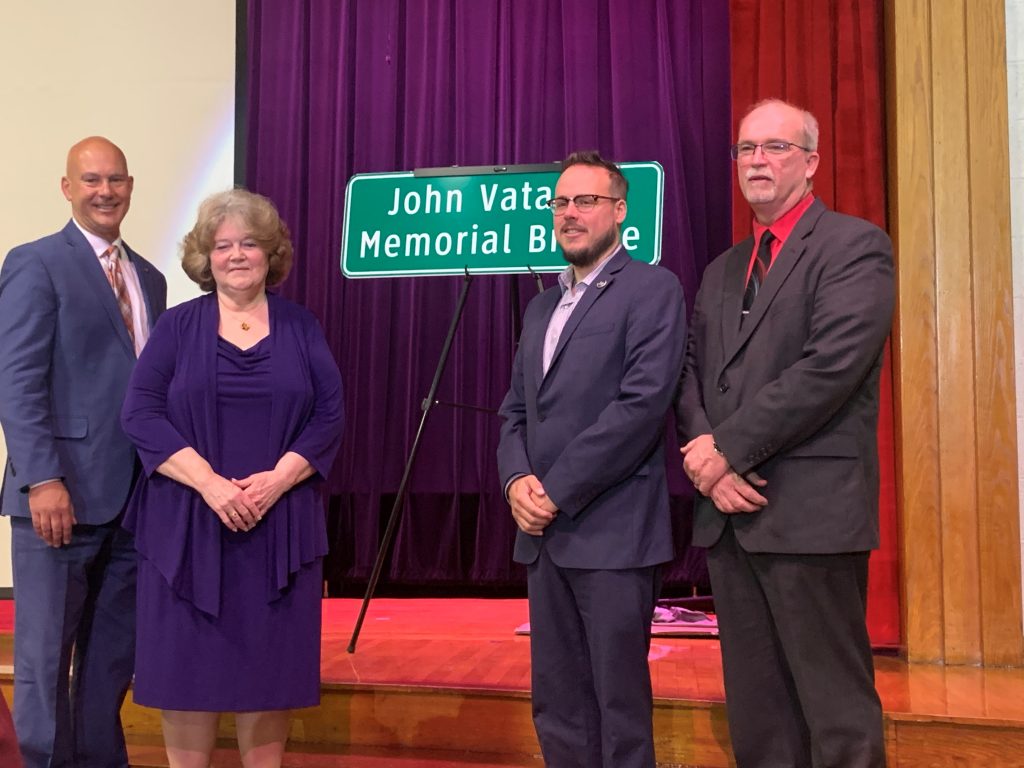 Stefano was joined at today's bridge-naming ceremony by Representative Matthew Dowling, as well as Vatavuk's wife, Janet.
Act 102 of 2019 renamed the U.S 219 Buffalo Creek Bridge after Vatavuk, who served as a Somerset County Commissioner from 2008 until his passing.
At the ceremony, Stefano and Dowling praised Vatavuk for his efforts to improve the area's transportation network, noting that he was a champion for the completion of Route 219 from Somerset to Meyersdale. The section of highway he passionately advocated for was opened in October of 2018, fulfilling a significant part of his longtime dream of seeing it constructed all the way to the Maryland border.
"I am so thankful for the time I had to get to know John," Stefano said. "He was a tireless advocate for 219, so I'm thrilled that one of the most impressive structures on this section of 219 serves as a reminder of John's hard work."
"He was one of the kindest, most considerate elected officials I had the privilege to work with when stepping into office," said Dowling. "There wasn't a conversation the Commissioner held that didn't somehow find its way back to the completion of Route 219. It is an honor to be able to do this so his legacy may live on in Somerset County."
Vatavuk was born March 24, 1949, and was a native of Johnstown, PA. He was a member of the first graduating class of the University of Pittsburgh at Johnstown in 1971 and taught in the North Star School District for 36 years until he retired in 2007.
Vatavuk coordinated the Somerset County arm of the Commissioning Committee for the USS Somerset and is an Honorary Plank Owner. He was an active member of St. Thomas Lutheran Church, where he served as its Grove Committee Treasurer, Sunday School Superintendent, Sunday School Teacher, Church Council Member, and Manager of the Softball Team.
On April 13, 2019, he was inducted into the Windber Area Hall of Fame, which he considered a great honor. He was also presented in memoriam the 2019 Greater Good Award by the Greater Cumberland Committee.
CONTACT: Stefano – Jake Gery, jgery@pasen.gov
Dowling – Amanda Cuteri, acuteri@pahousegop.com