Dear Friend,
Please find an update on what has been happening in Harrisburg and around the 32nd District below.
Pat Stefano

House Committee Approves Stefano Bill to Fight Neighborhood Blight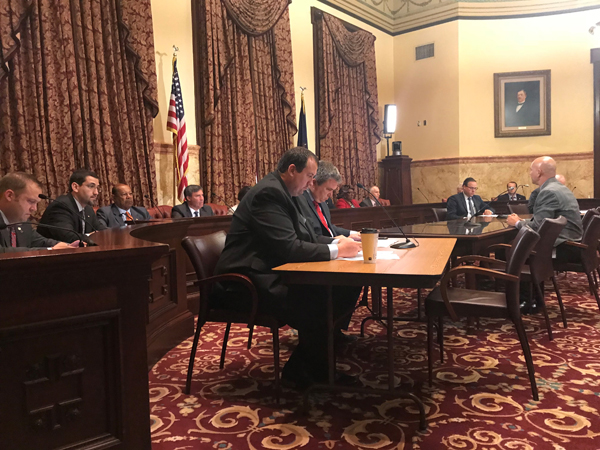 The House Urban Affairs Committee approved legislation I sponsored to provide local redevelopment authorities with greater authority and additional resources to combat neighborhood blight. The bill passed the panel unanimously as amended by Rep Matt Dowling (R-51), who I am thankful for in regard to his work on the legislation.
Senate Bill 667 would grant redevelopment authorities the same powers currently allotted to land banks through the Pennsylvania Land Bank Act, enabling them to take an active role in rehabilitated blighted properties and neighborhoods.
Blighted, abandoned properties pose a danger to the public, increase crime rates and reduce property values. This legislation will give communities a valuable tool to effectively blight, which is becoming a growing problem in many areas of the state.
A land bank is an independent public entity created by a municipality to expedite the process of acquiring and rehabilitating blighted, dilapidated, and abandoned properties. In many instances, land banks and redevelopment authorities work in unison to eliminate blight in communities.
While land banks have been crucial in this fight, many of the Commonwealth's counties have active redevelopment authorities which have been performing these same functions since 1945 but do not have specified authority under Pennsylvania law. Granting redevelopment authorities the same powers as land banks would allow them to acquire tax delinquent properties at a judicial sale without competitive bidding.
The legislation would also enable redevelopment authorities to discharge tax liens on blighted properties, and to share up to 50% percent of the real property taxes for five years after conveyance of authority-owned property. It would also eliminate the need to form an entirely new entity in these municipalities, which can be redundant and cost-prohibitive, given the lack of resources and funding for these initiatives.
Under my proposal, land banks will continue to remain a successful and useful tool for municipalities in combatting blight. This bill will offer another resource for municipalities with active redevelopment authorities to use in eliminating blight, rehabilitating properties and improving neighborhoods and communities while saving them money and avoiding costly and timely duplication of services.
Senate Bill 667 now goes to the full House of Representatives for consideration.
Senate Passes Stefano Legislation to Extend Protections to Government Entities, Businesses Victimized by Crime
The state Senate today passed and sent to the House bipartisan legislation sponsored by myself and Senator Lisa Boscola (D-18) that would allow governments, organizations and businesses to collect restitution if they're victims of a crime.
Senate Bill 897 would close a current loophole in state law that defines a victim specifically as an individual who has suffered physical or mental injury, death or the loss of earnings. As a result of that limited definition, a recent Supreme Court ruling found that governmental entities and businesses are not eligible for reimbursement when they are victimized and suffer losses.
SB 897 is a very simple bill with a very simple idea. If you steal from a governmental agency, a nonprofit or a business you should be made to repay what you stole from them. I don't think a week goes by that we don't read of an employee of a local government or a volunteer or employee with a nonprofit involved in stealing money from the organization. While these type of individuals are clearly in the minority when it comes to the people who work for and on behalf of these entities their impact is felt by all associated with the groups. It is felt by the people they serve in reduced services or increased prices.
Stefano said he recognized the need for the legislation after an incident occurred when he served as a chairman of a joint sewage authority. The authority's former executive was charged with embezzlement and ordered to pay a significant restitution to the authority.
I saw firsthand the hardship that our authority went through to recover these funds. I can't imagine had this ruling been in effect at that time how we would have dealt with it. I have met with local government officials who have had to deal with this issue by literally deciding that they had leave roads unpaved because they had been the victim of theft.
The legislation now goes to the House for consideration.
Senate Panel Approves Bill to Make Drug Treatment More Accessible in Rural Areas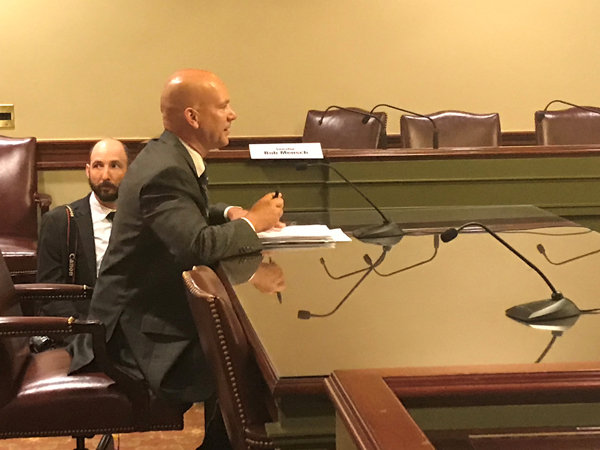 The Senate Health and Human Services Committee today unanimously approved legislation I sponsored that would make drug treatment options more accessible to individuals in rural areas of Pennsylvania.
Senate Bill 1089 is intended to eliminate the disparity in access standards for substance abuse center services that now exists between urban and rural areas
Currently, the access standard for out-patient and residential services is 30 minutes of travel time in urban areas, compared to 60 minutes travel time in rural areas, requiring rural residents to travel a greater distance.
Statistics from around the country clearly show that the farther a person needs to travel to obtain treatment, the less likely he or she is to maintain that treatment regimen. This proposed legislation would standardize the travel time standard to 30 minutes for out-patient treatment for both urban and rural areas, where treatment centers are available.
The governor's recent declaration of the opioid crisis as a statewide disaster emergency illustrates how crucial it is to ensure that residents in rural areas have access to life-saving treatment, close to home.
It is clear that this statewide problem needs to have a statewide approach in order to find a solution. In the midst of this epidemic, it is vital that there is a uniform standard among substance abuse centers, as well as more accessibility to these centers so we can save lives and help folks on the road to recovery.
Around the District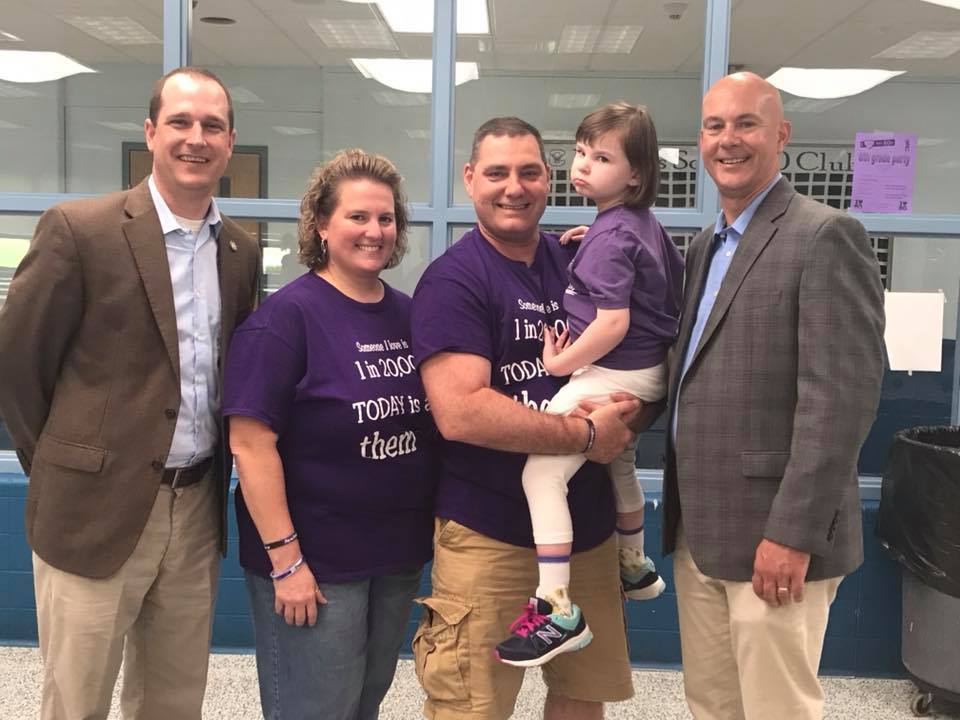 Stopped by to see my friend Sydney at her Shake-a-thon fundraiser at Connellsville Middle School last week. I met Sidney and her mom Julie Michaels when they were advocating for Senate Bill 3, the medical cannabis law which was passed last year. Sydney lives with Dravet syndrome which causes multiple seizures for this sweet girl.
Learn more about Sydney on her page: Sydney Against Dravet.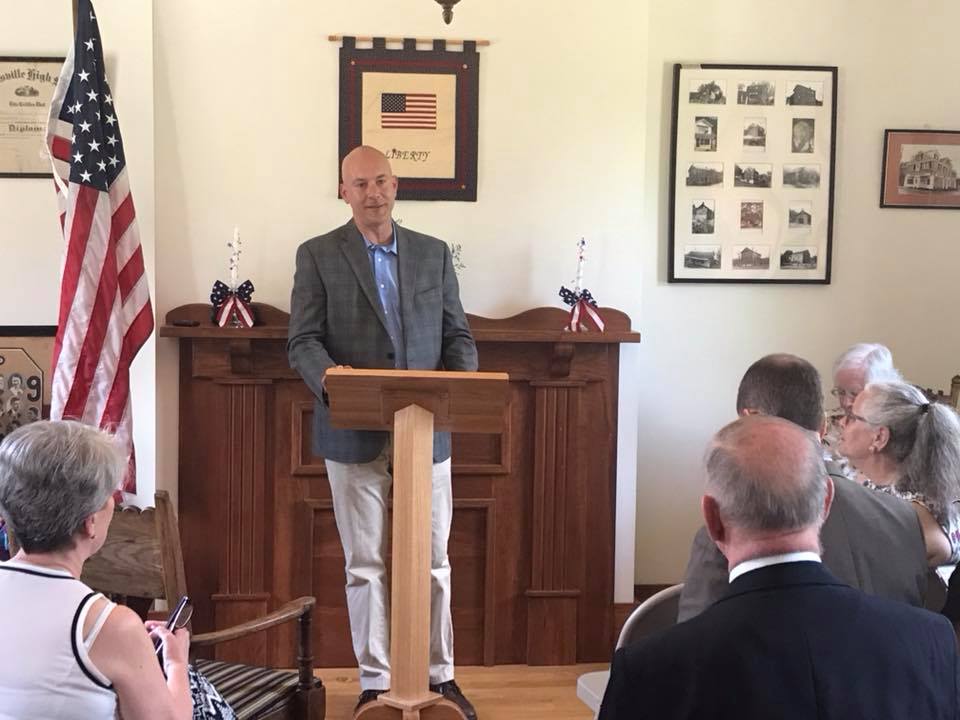 It was an honor to join the Connellsville Area Historical Society at the Gibson Stone House as they dedicated their Military Room to Harry L Porter featuring the Congressional Gold Medal of Florence "Shutsy" Reynolds. I remember walking by the Gibson House when I was in high school. It was in pretty rough shape then. But through your hard work, we still have this beautiful house. Thank you and our veterans for all you have done to preserve our history in Connellsville.
Gibson Stone House is celebrating its 200th birthday this year. Thanks to everyone at the Historical Society and especially Harry Porter for all of their efforts to save this incredible piece of Fayette County's history.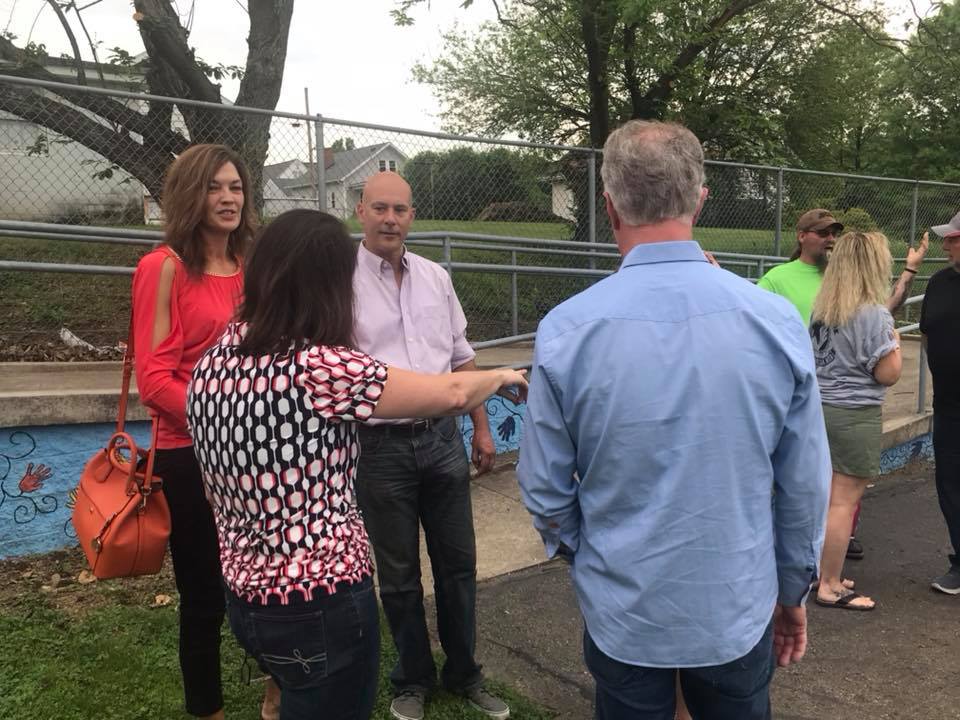 A very good evening of discussions on the drug crisis in our region at the North Belle Vernon – Community Bank Park. I appreciated hearing the perspectives of a wide variety from the greater Mon Valley from counselors to those currently in recovery to law enforcement and first responders. We also heard a great talk from Monessen Police Chief Jim Smith. Thanks to the organizers of this important event.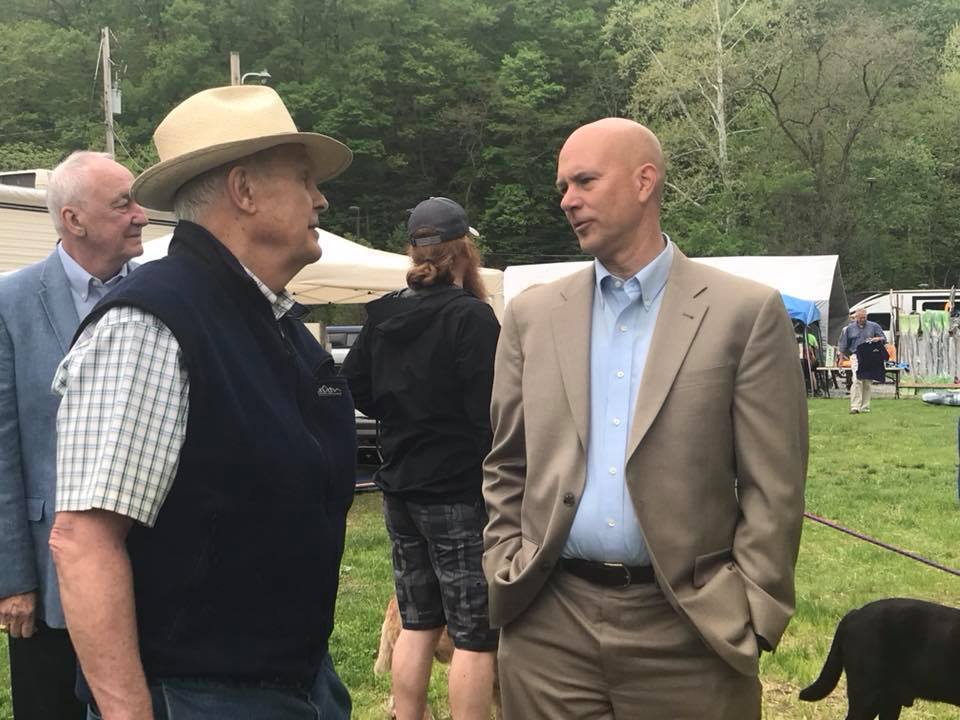 Great to participate in the dedication of the Whitewater Park at Greenhouse Park in Conemaugh Township. This weekend is the annual Stonycreek Rendezvous which brings in nearly 1500 whitewater enthusiasts from around the country! Congratulations to all who worked so hard on this project, which was supported by a grant from the DCNR and several local foundations. I'm proud that Rep Mike Reese and I played a role in helping secure the permits needed to complete this project on time!