In this Update:
Honoring Those Who Gave All this Memorial Day
Legislative Roundup for Week of May 23, 2021
Senate Approves Regulatory Reform Measures to Spur Job Creation
Update on the Emergency Declaration
Measures Aimed at Improving Broadband Access Approved
Reminder: Changes Coming to Unemployment Compensation System Next Week
Work Search Requirement for Unemployment Benefits to Resume
First 2021 "Fish for Free Day" is May 30
Tips for Safe Boating
Around the District
---
Honoring Those Who Gave All this Memorial Day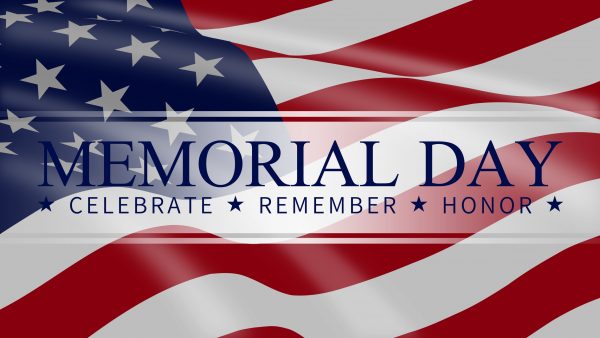 I hope you will join me in taking time this weekend to remember our fellow citizens who gave their lives for our nation. Even with everything that has occurred throughout the last year, we can say we live in the greatest nation on earth. Our independence was hard-won, and defended by those who made the ultimate sacrifice. Let us never forget what they did for us.
Legislative Rundown for the Week of May 23, 2021
This past week, the Senate was in session, and I had the opportunity to consider some critical pieces of legislation with a direct impact on the 32nd district.
On Monday, the Communications & Technology Committee advanced legislation requiring state agencies that experience a data breach to provide notice of the breach within seven days of discovery. In light of the Department of Health's decision to hide a data breach of one of their contractors for two months until a whistleblower informed the media, I offered an amendment to include third-party contractors under this requirement to provide notice of a breach. I am pleased to share the amendment was unanimously adopted. Senate Bill 696 is now before the full Senate for consideration.
The Transportation Committee took up my bill (Senate Bill 532), which would designate a bridge in Somerset County as the Corporal Anthony G. Orlandi Memorial Bridge. Corporal Orlandi served our nation in the Korean War, making the ultimate sacrifice in 1952. While his remains were never recovered, this bridge dedication would serve to ensure he and his bravery are never forgotten. Corporal Orlandi's family brought this hero to my attention, and they have worked tirelessly advocating for this bridge's dedication. I am pleased to see this legislation advance and look forward to its final passage.
The full Senate considered Senate Bill 243 on Tuesday. This legislation would allow volunteer fire departments, veterans organizations, and other non-profits to conduct Small Games of Chance fundraising online throughout the remainder of the COVID-19 pandemic. We all know the damage that has been done to small businesses and non-profits over this past year, so I voted in support of this legislation which passed unanimously.
Senate Approves Regulatory Reform Measures to Spur Job Creation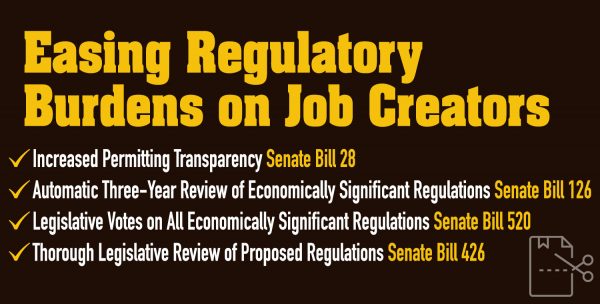 With Pennsylvania's employment rate lagging behind those of other states emerging from the pandemic, the Senate approved several bills this week to rein in job-stifling regulations.
The bills increase legislative oversight of a process too often influenced by unelected bureaucrats, adding special scrutiny for the costliest proposed regulations.
The bills were sent to the House of Representatives for consideration.
Update on the Emergency Declaration
On Tuesday, May 18th, Pennsylvania voters approved two ballot questions aimed at ensuring legislative input during a state emergency declaration after 21 days.
On May 20th, Governor Tom Wolf extended his COVID-19 emergency declaration for another 90 days. I voted against the continuation of the emergency declaration as a member of the Pennsylvania Emergency Management Council. After the ballot questions are officially certified, I fully expect the Senate to take up a concurrent resolution ending the Governor's emergency declaration.
The House Majority Leader, Kerry Benninghoff, has introduced House Resolution 106, a concurrent resolution, which could be the legislative vehicle for ending the declaration. In the meantime, we are looking at the ramifications of ending the declaration, including looking at the waivers that were granted during the declaration and whether or they should be extended.
Measures Aimed at Improving Broadband Access Approved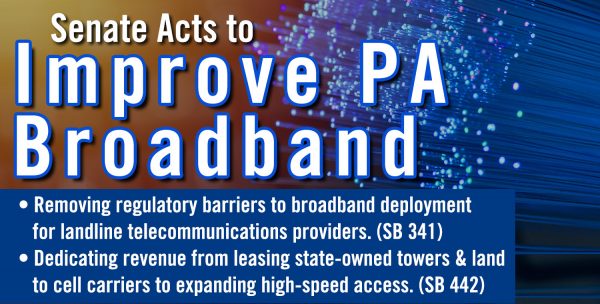 The Senate approved two measures aimed at bringing high-speed broadband service to more areas of Pennsylvania.
One bill would remove regulatory barriers to broadband deployment for landline telecommunications providers. The legislation would require the Pennsylvania Public Utility Commission to waive certain regulations, review regulations every three years and eliminate those that are no longer necessary or in the public interest.
A second measure would fund access to broadband by using revenue from renting excess wireless capacity on towers, land, and assets owned by the Commonwealth. The bills were sent to the House of Representatives for consideration.
Reminder: Changes Coming to Unemployment Compensation System Next Week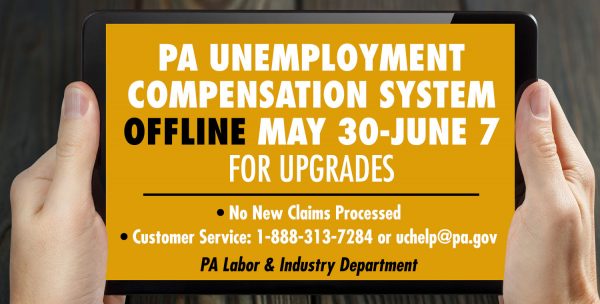 The state's Unemployment Compensation system will complete a major upgrade next week that will require changes in the way that claimants will file for benefits. It is critical for claimants to understand the timeline and new process to file for benefits to avoid any interruption in payments.
The Unemployment Compensation system will be offline from May 30 through June 7 to allow data to be moved from the old system to the new one. No new claims will be processed during this time, and some services will not be accessible during this time. Claimants who are eligible to file a bi-weekly claim from June 3-7 can file May 30 through June 2.
Beginning on June 8, claimants must file for benefits and initial claims at benefits.uc.pa.gov following the same schedule as before. There will no longer be paper forms available; claimants will be required to create a Keystone ID to log into the new UC system. Claimants will still be able to file by phone starting June 10.
More information is available on the Department of Labor and Industry's FAQ page.
Work Search Requirement for Unemployment Benefits to Resume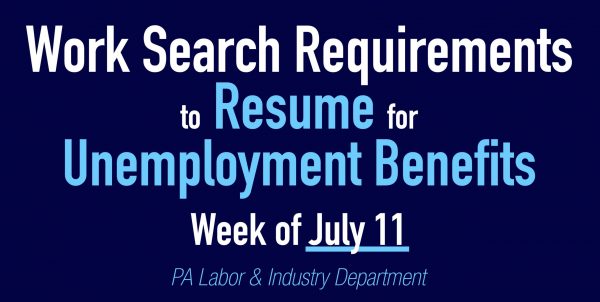 The Department of Labor and Industry announced that work search requirements for individuals receiving unemployment benefits will restart the week of July 11, with individuals to begin certifying on July 18 that they have looked for work during the previous week.
As pandemic business closures rocked the job market last year, the department suspended the requirement that claimants actively search for work and register with the PA CareerLink database. In January, without legislative approval or input, the department then extended the suspension indefinitely.
With the pandemic easing and employers desperate for workers, the Senate Labor and Industry Committee approved legislation to reinstate the job search and CareerLink requirements earlier. The bill was sent to the full Senate for consideration.
First 2021 "Fish for Free Day" is May 30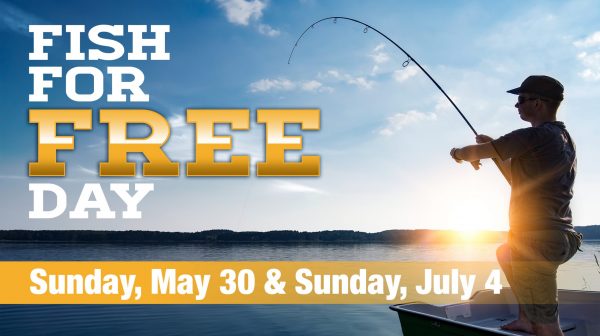 Pennsylvania's Fish for Free Days are scheduled for May 30 and July 4 this year. They allow residents and non-residents to fish on PA waterways with no fishing license, trout/salmon permit or Lake Erie permit required. All other fishing regulations still apply.
It's a great opportunity for families to try their hand at a new outdoor activity. Learn about where to borrow fishing tackle, where the best fishing waters are, and more, here.
Tips for Safe Boating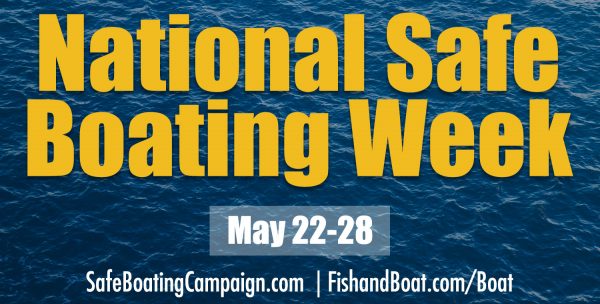 This is National Safe Boating Week, time for some friendly reminders on how to have fun on the water this summer: wear a lifejacket, check the weather forecast, let someone know you're heading out, and don't drink and boat.
You can find everything you need to know about boating in PA, including boat titling/registering, boating basics, regulations, safety courses and more here.
Around the District
This week, hospital officials cut the ribbon on the WVU Cancer Center on the WVU Medicine Uniontown Hospital campus. This new center, which opens to patients on June 1, will be an integrated piece of the WVU Medicine system here in our own backyard. Speaking at the ribbon cutting were hospital CEO Dr. David Hess, Director of the WVU Cancer Institute Dr. Hannah Hazard-Jenkins, and President and CEO of the WVU Health System Albert L. Wright Jr. Congratulations on cutting the ribbon on this incredible asset to the region.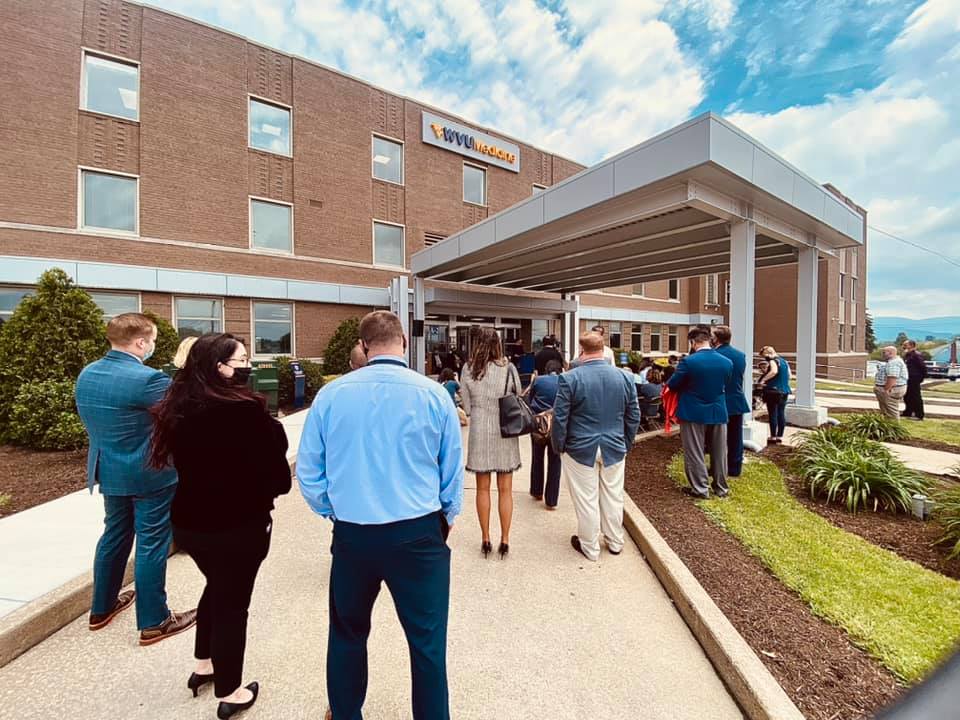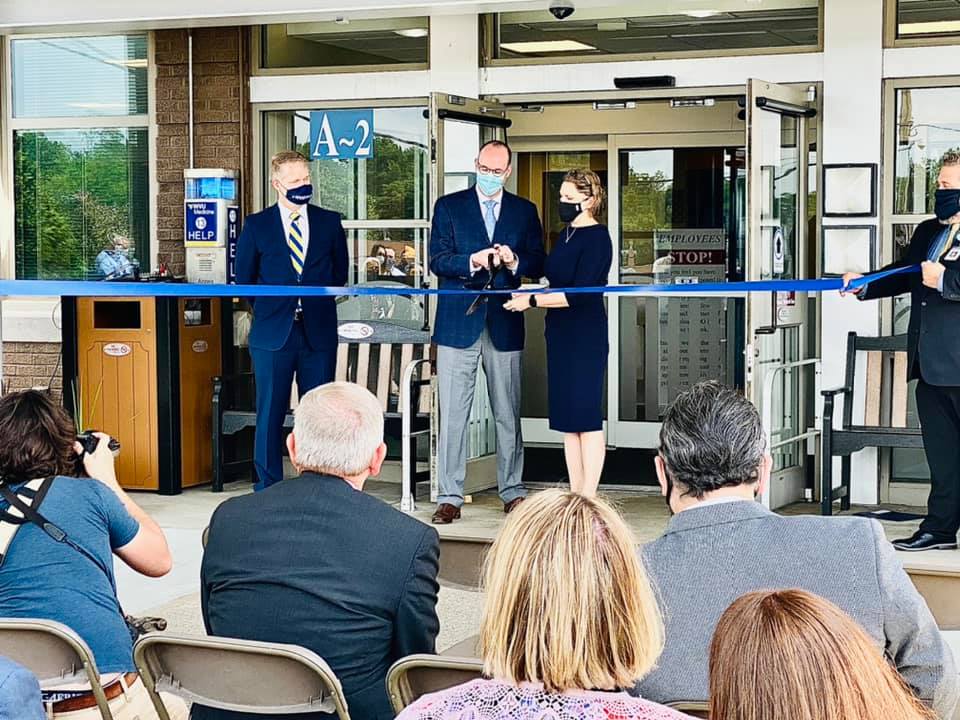 The Western PA Conservancy's garden program came to Monessen this week. At the entrance of town, they refreshed and re-planted flowers in front of the Welcome to Monessen sign. Mara from the Conservancy coordinated the volunteer effort while the Monessen chamber director Gary, who is the steward of the garden, oversees today's work and maintains it throughout the season. Also joining the effort was Nate Nevala from Congressman Reschenthaler's office and Representative Eric Devanzo and his daughter.