Stefano Calls on Governor Wolf to Renounce His Proposal to Cut Rural School District Funding
At a press event in Philadelphia earlier this month, Governor Tom Wolf declared his support for sending all Basic Education funding through the Basic Education Funding Formula that, when enacted, was only intended to be used for newly appropriated education dollars. (For more information, see: Gov. Wolf Calls for Drastic School Funding Shake-up)
Governor Wolf's new plan for distributing education funding would have a devastating effect on the School Districts of my district. This is another example of Governor Wolf pandering to Philadelphia at the expense of rural Pennsylvania communities like ours. I will fight, with every fiber of my being, Governor Wolf's disastrous proposal.
All Pennsylvanians, no matter their zip code, deserve a high quality education. Governor Wolf's proposal would doom our children and all of rural Pennsylvania, to substandard educational opportunities.
While his staff has tried to explain away the Governor Wolf's emphatic endorsement of this wrongheaded idea, they have left the idea very much on the table. Governor Wolf's legislative allies have rushed to introduce legislation to implement his proposal.
Governor Wolf should pledge right now to not pursue this shortsighted proposal in any way, over any period of time.
This proposal would have the following impacts on School Districts in the 32nd Senatorial District:
School District
Losses Under Wolf Proposal
Total State
2018-19 Funding
State Funding
Cut Percentage
Fayette County Totals
$35,608,966
$104,403,435
34.11%
Albert Gallatin Area
$8,697,844
$23,892,476
36.40%
Brownsville Area
$3,488,963
$12,444,511
28.04%
Connellsville Area
$12,092,963
$30,777,578
39.29%
Frazier
$4,020,999
$6,954,493
57.82%
Laurel Highlands
$2,955,759
$14,297,028
20.67%
Uniontown Area
$4,352,717
$16,037,349
27.14%
Somerset County Totals
$28,021,813
$57,238,063
48.96%
Berlin Brothervalley
$2,797,681
$5,234,285
53.45%
Conemaugh Township Area
$4,656,376
$6,776,270
68.72%
Meyersdale Area
$5,060,332
$7,299,224
69.33%
North Star
$4,013,267
$7,690,437
52.19%
Rockwood Area
$1,166,978
$3,439,463
33.93%
Salisbury Elk-Lick
$1,239,231
$1,991,607
62.22%
Shade Central City
$2,257,867
$3,993,131
56.54%
Shanksville-Stonycreek
$422,816
$1,588,848
26.61%
Somerset Area
$859,184
$8,113,558
10.59%
Turkeyfoot Valley Area
$670,756
$2,362,378
28.39%
Windber Area
$4,877,325
$8,748,862
55.75%
Westmoreland County
32nd District Funding Losses
Belle Vernon Area
$4,615,895
$9,761,483
47.29%
Monessen City
$1,812,954
$6,233,596
29.08%
Mount Pleasant Area
$3,937,610
$9,132,380
43.12%
Southmoreland
$4,591,952
$9,728,364
47.20%
Yough
$4,275,329
$9,892,599
43.22%
Come for the Coffee, Stay for the Conversation
Every year around this time I host a series of meetings around the district to give constituents an opportunity to meet with me and discuss the issues important to them. We hold these meetings all over the district, and encourage you to come and meet with me face-to-face.
This year in Fayette County, we are making stops in Uniontown and Scottdale on Wednesday, August 8th and Perryopolis, Brownsville, and Connellsville on Thursday, August 9th.
I will be announcing the Somerset visits during the Somerset fair. Details for all the Fayette County stops are below. Hope to see you there!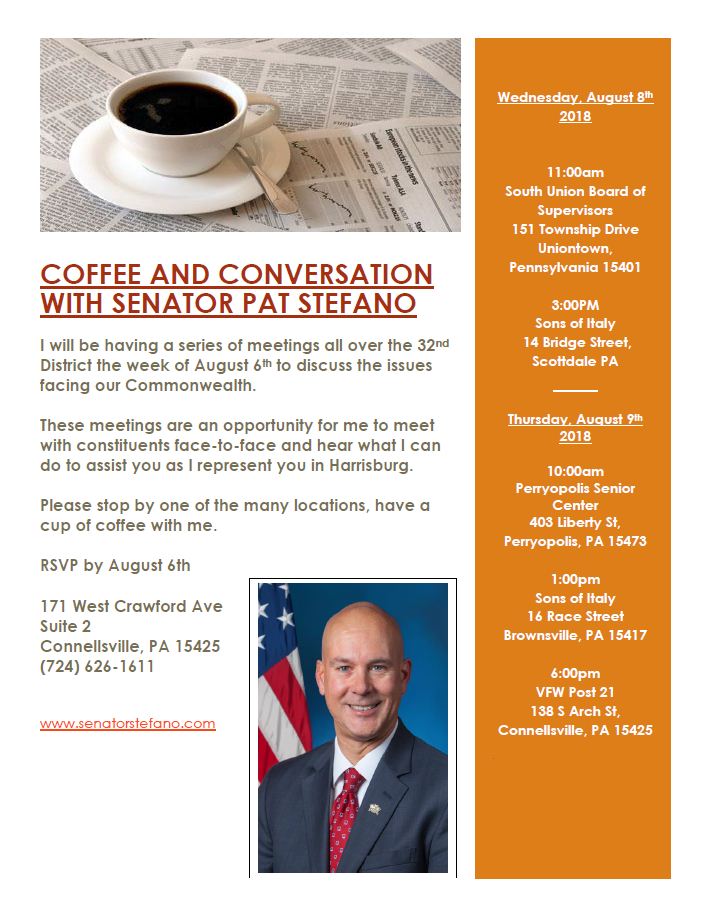 Leadership Changes at SCI Laurel Highlands and SCI Somerset
Department of Corrections Secretary John Wetzel this week announced leadership changes at several state correctional institutions in our area.
Melissa Hainsworth, who served as superintendent of SCI Somerset, has been named superintendent of SCI Laurel Highlands; SCI Smithfield Superintendent Eric Tice has been named superintendent of SCI Somerset, and; Jamey Luther, the current superintendent at SCI Laurel Highlands, has been named superintendent of SCI Smithfield. The changes are effective Monday, July 30, 2018.
Wetzel said the changes are the result of the agency's need to respond to the long-term effects of the fatal beating of Somerset Corrections Sergeant Mark Baserman by an inmate in February.
I hope this is the first in several steps aimed at making SCI Somerset, and all of our correctional facilities, a safe place for our corrections officers to work. I am hopeful with new leadership taking a fresh look at the policies and procedures in place that our corrections officers can be given the tools necessary to do their job in a safe and effective manner.
This cannot be just a cosmetic change but part of a systemic change in how we manage our corrections institutions.
I encourage the new Superintendents to listen to those in harm's way and take their feedback and suggestions seriously.
Around the District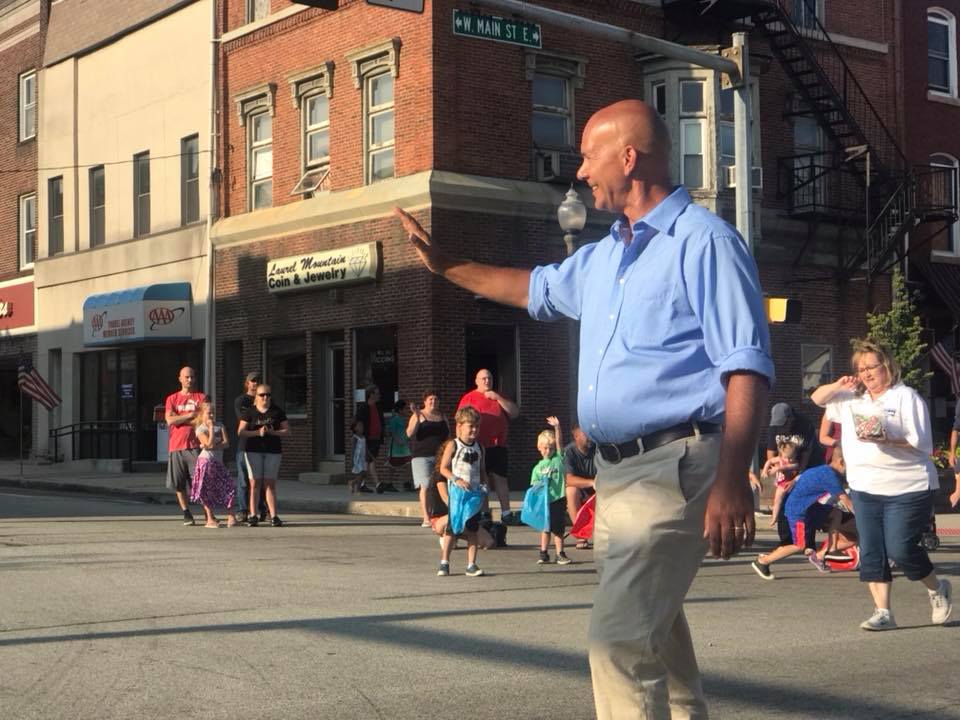 It was a perfect night for the Somerfest Parade in Somerset! Thanks to all who came out to participate.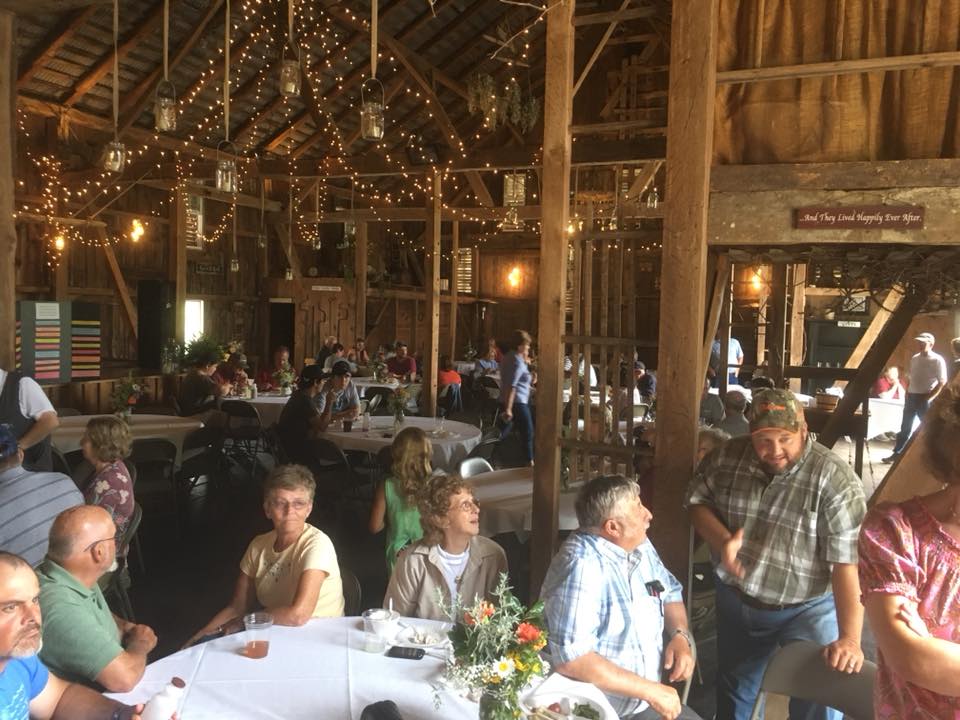 I was pleased to join the Somerset County Farm Bureau's Farming Appreciation Dinner at the Hayloft. Thank you to those who work endlessly to provide food for all of our tables.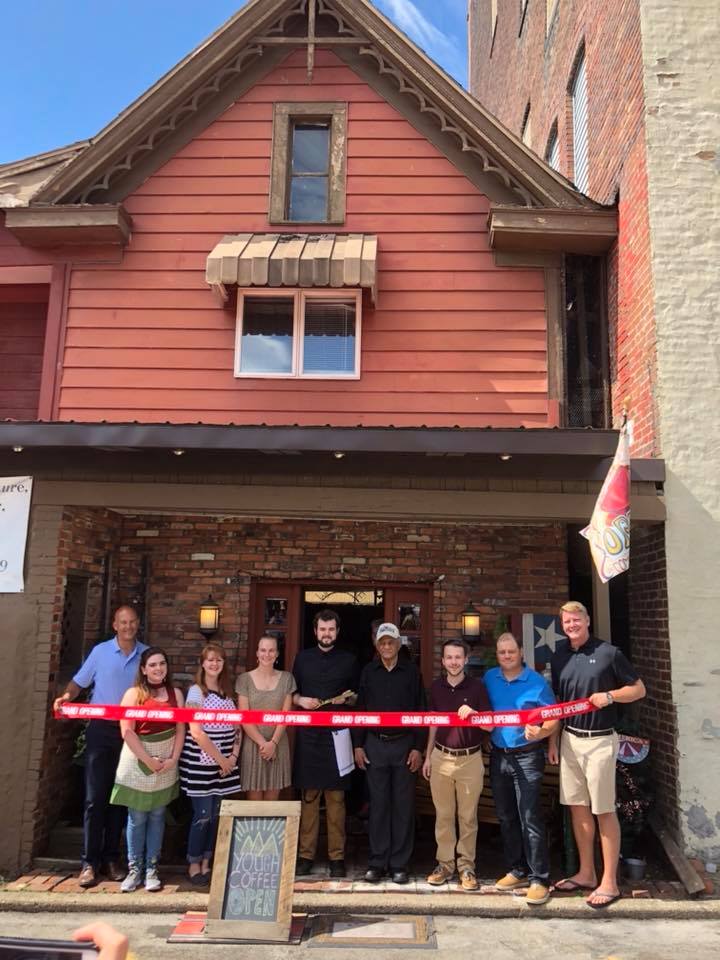 This week, Tina and I attended the Connellsville Chamber Ribbon Cutting for Youghiogheny Coffee on Apple Street in Connellsville. Congratulations to James and thanks for your investment in our community. Great coffee and great menu.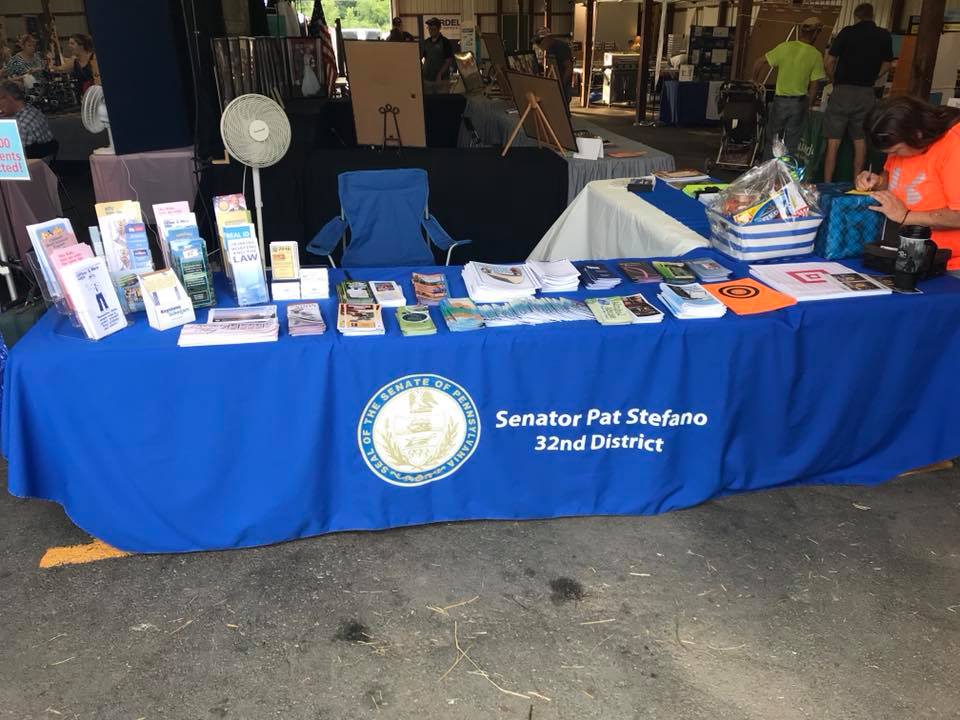 It's time for the Fayette County Fair. Stop by my booth in Commercial Building 3.