Dear Friend,
Please find an update on what has been happening in Harrisburg and around the 32nd District below.
Pat Stefano

Coffee and Conversation in Somerset
I will be having a series of meetings across the 32nd District next week to discuss the issues facing the Commonwealth in Somerset County on Thursday, August 29th.
These meetings are an opportunity for me to meet with constituents face to face and hear what I can do to assist them as I represent them in Harrisburg. I encourage constituents to stop by one of the many locations, have a cup of coffee, and let me know what they think about issues important to them.
Those who would like to attend are asked to RSVP by August 26th by calling Senator Stefano's district office at 814-443-2057.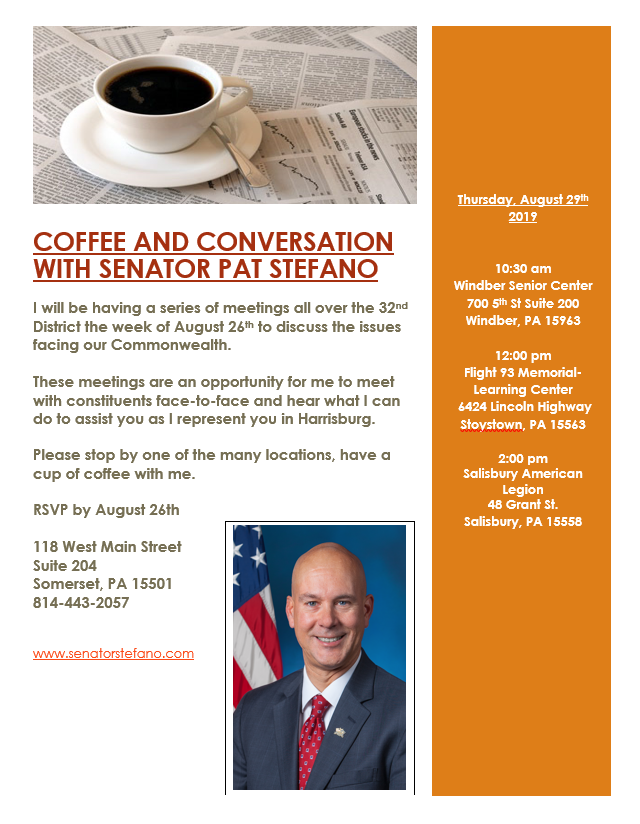 Senate Committee Hearing at PSU Fayette on September 5th
How does high-speed broadband impact agriculture and education? One of the PA Senate committees I sit on is set to explore the issue locally on Sept. 5.
I am bringing the Senate Communications and Technology Committee to Penn State Fayette to explore the implications of high-speed internet on Pennsylvania's two critical industries – agriculture and education.
The committee, chaired by Senator Kristin Phillips-Hill (R-York), is conducting a series of public hearings across the state with a focus on closing the Commonwealth's digital divide. The goal of the hearings is to weigh how lack of access to high-speed internet affects different industries and public services across the state.
Connection to high speed internet is critical for all of Pennsylvania and is a particularly relevant issue in many rural communities like the ones that I serve. That is why I am grateful that Chairwoman Phillips-Hill is bringing the Communications and Technology Committee to my district to discuss this issue. This is an issue that deserves the attention of all levels of government and I'm pleased to host this hearing to facilitate that discussion and better understand what is happening on the ground.
The hearing will be held on September 5 at 10 a.m. at Penn State Fayette, the Eberly Campus at the Magerko Hall in the Community Center, 2201 University Drive in Lemont Furnace. It is open to the public.
You can learn more about the public hearing, view the agenda and read testimony at communications.pasenategop.com.
Narcan Training in Fayette County