Dear Friend,
I am pleased to send you this edition of my electronic newsletter. These e-newsletters enable me to provide information about issues, events and activities in Harrisburg and around the 32nd Senatorial District to you in a timely manner while saving postage costs.
If you find this e-newsletter useful, I invite you to visit my website www.senatorstefano.com for more information about your state government. You can also keep up to date through Facebook (www.facebook.com/senatorstefano) and Twitter (www.twitter.com/senatorstefano).
If you do not wish to receive these e-newsletters, please click the "unsubscribe" button at the bottom of the page.
Sincerely,
Pat Stefano
---
Governor Vetoes Fiscally Responsible Budget And Liquor Reform Plan Passed by Legislature
The Legislature recently approved a 2015-16 budget plan that funds essential state services and devotes an additional $370 million to education without increasing state taxes. I strongly supported this plan and am deeply disappointed that Governor Wolf chose to veto a our balanced state budget plan – one that would have made new investments in education, improved the funding mechanism for our schools and provided funding for critical state services – all without a tax increase.
The budget we passed represents a fiscally responsible approach to allocating state resources. It sends a strong signal that state government can and should live within its means, rather than mortgaging our future through higher spending and more taxes that Pennsylvanians cannot afford.
The budget we approved, before the constitutional deadline, holds the line on spending while also increasing funding for education by $370 million.
It included savings that will be realized by privatizing the sale of wine and liquor, and by reforming the state pension systems. Pension costs are the number one cause of property tax hikes and school cutbacks. The Pension reform bill would put legislators and new hires into a defined contribution retirement, like the one most Pennsylvanians have access to in their jobs.
Governor Wolf also vetoed our plan to privatize the liquor system in Pennsylvania, despite the fact that residents across the state have voiced their opinions that they want to see greater consumer convenience for liquor sales.
The legislatively-approved plan listened to consumers, added $220 million to state revenues and brought us in line with the systems in place in 48 other states. It is unfortunate that Governor Wolf has rejected moving Pennsylvania into the 21st Century when it comes to the sale of wine and spirits across the Commonwealth.
Lawmakers and state residents have soundly rejected the governor's call for massive tax and spending hikes, in addition to a tax on natural gas production in Pennsylvania. We will continue to meet with the governor to develop a budget that funds state services and programs in a fiscally responsible manner.
---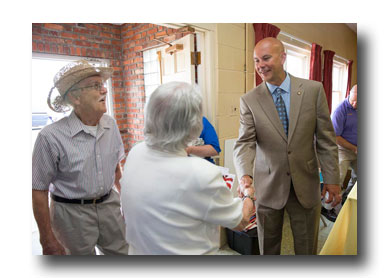 Thanks to all of you who participated in my recent senior expo in Somerset. It was a great chance to meet new constituents and provide information on programs and services available to older Pennsylvanians.
---
Seniors, Individuals with Disabilities to Receive $214 Million in Property Tax and Rent Rebates
Older Pennsylvanians and individuals with disabilities who have applied for the Property Tax Rent Rebate program will begin receiving rebates totaling $214 million this week.
The state Department of Revenue announced this week that nearly 456,000 homeowners and renters will be issued rebates beginning on July 1. Approximately 163,000 homeowners and renters should have rebates directly deposited into bank accounts. Others should begin receiving rebate checks by mail in the next several days.
The deadline to apply for rebates on property taxes or rent paid in 2014 was recently extended from June 30 to December 31 to allow more eligible individuals to apply for the program.
The Property Tax Rent Rebate program has provided more than $5.9 billion in rebates since its creation, and it remains a tremendous resource for local seniors and others living on a fixed income. My offices are available to assist anyone who needs help in completing an application.
To be eligible, applicants must meet income requirements and be a Pennsylvania resident age 65 and older; a widow or widower age 50 and older; or a permanently disabled individual age 18 or older. The program is available to homeowners with a household income of $35,000 or less and renters with a household income of $15,000 or less, excluding one-half of Social Security Income and Railroad Retirement Tier 1 benefits.
Applicants who received rebates last year are not disqualified from receiving a rebate this year if Social Security cost-of-living adjustments caused them to exceed these income limits.
Information and applications for the Property Tax Rent Rebate program are available online at www.revenue.state.pa.us or by calling toll-free 1-888-222-9190. Property Tax/Rent Rebate claim forms and more information are also available at my district offices.
---
Senate Approves Bill Supporting Emergency Responders
The Senate recently passed legislation I strongly supported that is intended to help Pennsylvania's volunteer first responders. These fire and emergency personnel help to keep our communities safe and put their lives on the line to help others.
Senate Bill 299 gives municipalities the option to reduce or waive their local earned income tax for volunteer firefighters and volunteers at nonprofit emergency medical service agencies. Under the legislation, municipalities would have the authority to set the amount of the tax credit and the guidelines of the program, including specifying the number of calls to which a volunteer must answer and the level of training they must have.
Senate Bill 299 is expected to be part of a larger package as the General Assembly continues to address recruitment and retention of first responders across the Commonwealth. The idea for the legislation was bolstered by a joint hearing on firefighter and EMT retention and recruitment held in 2013 by the Senate Veterans Affairs and Emergency Preparedness Committee. That led to a series of meetings held by a workgroup focusing on the challenges facing firefighting and some suggestions to bolster the ranks of the volunteers.
This bill is one step in the right direction of an ongoing dialogue. Although the tax credit program would be optional for local governments, we hope every municipality will see the virtue of keeping and attracting its volunteer firefighters and emergency medical services personnel.