Dear Friend,
I am pleased to send you this edition of my electronic newsletter. These e-newsletters enable me to provide information about issues, events and activities in Harrisburg and around the 32nd Senatorial District to you in a timely manner while saving postage costs.
If you find this e-newsletter useful, I invite you to visit my website www.senatorstefano.com for more information about your state government. You can also keep up to date through Facebook (www.facebook.com/senatorstefano) and Twitter (www.twitter.com/senatorstefano).
If you do not wish to receive these e-newsletters, please click the "unsubscribe" button at the bottom of the page.
Sincerely,
Pat Stefano
---
Senate Panel Approves Bill to Allow Game Commission to Establish Fees for Hunting and Fur-Taking Licenses
This week, I held my first meeting as chair of the Senate Game and Fisheries Committee. The panel reported three bills out of committee and to the Senate, including a measure I sponsored which would give the Pennsylvania Game Commission the authority to establish the fees that it charges for hunting and fur-taking licenses.
S.B. 192 would allow the commission to set its own license costs while providing the legislature with necessary oversight of the organization.
The Game Commission's fees are currently determined by legislation. The Commission is not supported with revenues from the General Fund but instead relies on the fees paid by license holders.

It has been 17 years since the legislature has granted the commission a license increase, providing a severe financial strain on its operation.
This bill would give the Commission the flexibility and authority to develop and maintain a fee structure that generates sufficient revenues to pay for its activities on behalf of hunters and trappers. It's a common sense and much-needed change that will benefit Pennsylvania sportsmen and enable the Commission to better respond to changes in market conditions and other areas.
The committee also approved two additional bills:
S.B. 30, sponsored by Senator John Eichelberger, which would authorize the PA Fish and Boat Commission (PFBC) to establish the fees for fishing and boating related licenses and permits by regulatory action, and expands the allowable use of funds from the sale of Lake Erie permits.
S.B. 123, sponsored by Senator Mario Scavello which would permit falconry on Sunday.

I was appointed Chair of the Senate Game and Fisheries Committee for the 2017-18 Legislative Session in January by Senate President Pro Tempore Joe Scarnati (R-25). The Committee participates in the critical task of helping to manage Pennsylvania's wildlife resources and ensuring that the average citizen can access outdoor recreation.
---
Property Tax/Rent Rebate Applications Available Now
Applications are now available for the Property Tax and Rent Rebate Program.
The program, which provides rebates of rent and property taxes paid in 2015, is open to state residents age 65 or older; widows and widowers age 50 or older; and, 100 percent disabled people 18 or older. The income limit is $35,000 a year for homeowners and $15,000 annually for renters, with half of Social Security income excluded.
The maximum standard rebate is $650, but supplemental rebates for certain qualifying homeowners can boost rebates to $975. The deadline for filing an application is July 1 and applications are processed on a first-come, first-served basis after that date.
Application forms and assistance are available at no cost from Department of Revenue district offices, local Area Agencies on Aging, senior centers and state legislators' offices. Applications are also available online at www.revenue.state.pa.us or by calling toll-free (888) 222-9190.
Local residents should be aware that there is no charge to file a state Property Tax/Rent Rebate form and they shouldn't fall prey to companies offering to submit the forms for a fee.
Since the Property Tax/Rent Rebate Program's 1971 inception, older and disabled adults have received more than $5.9 billion in property tax and rent relief. The program is funded by the Pennsylvania Lottery and revenue from slots gaming.
---
DCED Now Accepting Grant Applications
The Department of Community and Economic Development (DCED) is accepting applications for Act 13 grants through the Commonwealth Financing Authority until May 31.
Funds will be allotted through the Marcellus Legacy Fund to assist in projects, including: abandoned mine drainage abatement, abandoned well plugging, sewage treatment, greenways, trails and recreation, watershed restoration and flood control.
The Marcellus Legacy Fund was created by Act 13 of 2012 to provide for the distribution of unconventional gas well impact fees to counties, municipalities and commonwealth agencies
More information about the program can be found at: http://dced.pa.gov/programs-funding/commonwealth-financing-authority-cfa/act-13-programs/#.WJDKzHmQyUk
The DCED is accepting applications for the current round of Community Recreation and Conservation (C2P2) grants through April 12. C2P2 grants are awarded to municipalities and authorized nonprofit organizations for recreation, park and conservation projects.
More information about the C2P2 program is available online at: http://www.dcnr.state.pa.us/brc/grants/grantpolicies/index.htm. Grant applications are available at www.grants.dcnr.state.pa.us.
---
Trout Stocking Schedules Now Available
Trout stocking schedules for 2017 are now available online at www.fishandboat.com and on the Pennsylvania Fish and Boat Commission "FishBoatPA" mobile app. To view the list, click on the link "Fish" in the upper right corner, then select Trout Stocking Schedules. From there, select a county and enter start and end dates from the calendars at the top of the page.
Included in this year's stocking lists are the Keystone Select Stocked Trout Waters, a program where 14 waters across the state will be stocked with large 14- to 20-inch trout. The program was launched last year with eight waters. This year six new waters are being added. Click here to see the list of waters.
The 2017 season will open April 1 with the Regional Opening Day of Trout Season in 18 southeastern counties, including: Adams, Berks, Bucks, Chester, Cumberland, Dauphin, Delaware, Franklin, Juniata, Lancaster, Lebanon, Lehigh, Montgomery, Northampton, Perry, Philadelphia, Schuylkill and York.
Trout season opens statewide on April 15.
---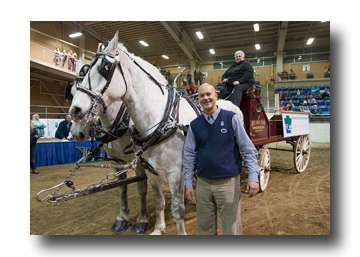 I took part in the celebrity draft horse competition at the PA Farm Show. I came in 6th out of 24 competitors! I got in a little trouble for allowing the horses to go faster than we were supposed to go. Too much horsepower I guess.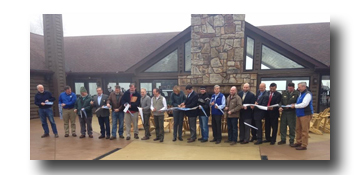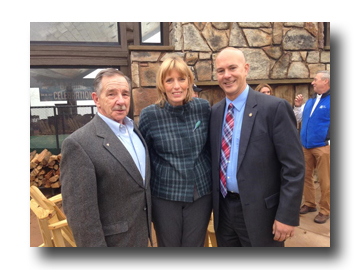 I was thrilled to join with the Pennsylvania Department of Conservation and Natural Resources Secretary Cindy Dunn, Bob Nutting and other officials at the ribbon cutting for Laurel Mountain Ski area at Laurel Mountain State Park. What a great asset to the Laurel Highlands!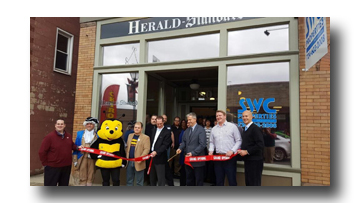 It was great to cut the ribbon with our neighbors across the street and welcome the Herald Standard and SWC Properties to Connellsville!