Dear Friend,
I am pleased to send you this edition of my electronic newsletter. These e-newsletters enable me to provide information about issues, events and activities in Harrisburg and around the 32nd Senatorial District to you in a timely manner while saving postage costs.
If you find this e-newsletter useful, I invite you to visit my website www.senatorstefano.com for more information about your state government. You can also keep up to date through Facebook (www.facebook.com/senatorstefano) and Twitter (www.twitter.com/senatorstefano).
If you do not wish to receive these e-newsletters, please click the "unsubscribe" button at the bottom of the page.
Sincerely,
Pat Stefano
---
Senator Stefano's response to the Governor's Budget Address
Going into the FY 2017-18 budget process, I pledged to review Governor Wolf's $32.3 billion budget proposal with an eye toward saving taxpayer dollars and promoting government efficiency. After hearing the Governor's address, we certainly heard a different approach as compared to the last two budgets.
I am encouraged to see that the governor has decided to abandon his two-year quest to raise broad based taxes on Pennsylvanians. In sharp contrast to Governor Wolf's first two budget proposals, this year's spending request did not include a massive proposed increase in the Personal Income Tax or the Sales and Use Tax.
However, his proposal still represents a $1 billion dollar tax increase which will mostly be borne by Pennsylvania citizens. For example, his proposal to tax rural communities that do not have police protection leads me to wonder how municipalities would absorb the $25 per person tax his plan would require. The budget would increase state spending by $571 million over the current year's total. With taxpayers already burdened with onerous taxes, it doesn't sound to me like Governor Wolf is letting up on his tax plan as much as he lets on.
What disappointed me about the Governor's address was that the largest cost driver in our budget did not receive so much as a mention in the governor's speech: Skyrocketing pension costs. Unfunded liabilities in the state's two largest pension systems have grown to more than $70 billion, and scheduled payments to both systems increased by $288 million this year alone. If we continue to grow government without reforming pensions we will be coming to the taxpayers for more tax increases year after year. On this issue I have been outspoken and consistent: we have to deal with the real issues and cost-drivers that are causing our deficits in Harrisburg and property tax increases on the local level.
I'm encouraged that the Governor has found $2 billion dollars in cuts and consolidation. As a member of the Taxpayer Caucus we have found $3 billion in other cuts and other revenue ideas that could be added to this proposal. Finding ways to save taxpayers' money should be a priority, and I am glad that the Governor is finally coming around to that conclusion.
A portion of the savings in Governor Wolf's proposed budget comes from the consolidation of the departments of Aging, Health, Human Services and Drug and Alcohol Programs into a single entity. It is unclear how the departments would be merged, the number of positions that would be eliminated, and the programs and services that would be impacted. We need to take a hard look at how we can make the delivery of services more efficient while guaranteeing proper oversight and accountability to those who rely on these programs and services.
I am alarmed with the Governor's proposal to significantly reduce the Department of Agriculture's budget by 24 percent. Agriculture is the number one industry in PA and in my district. These programs have been the target of this administration year after year and cannot sustain these cuts. While Agriculture programs receives a nearly 25 percent cut we see the Department of Human Services budget increase by nearly $500 million and the Department of Environmental Protection increase by over $1 million. That's not good for jobs and our economy.
While I am encouraged by some of the proposals the Governor has outlined, the details of his proposal leave me skeptical that this budget process will be free of contention. As I have pledged to my constituents every year, I will continue to push for pension reform, cuts to wasteful spending programs, and expansion of programs that aid in bringing jobs and prosperity to our shared corner of Pennsylvania.
---
Unemployment Compensation Update
I have received numerous calls regarding the ongoing Unemployment Funding issue which is causing unacceptable wait times for constituents in the 32nd district. I was interviewed recently by the Johnstown Tribune Democrat where I explained the causes and solutions of the crisis. A brief excerpt from that article follows:
"This has been a frustrating situation that was very avoidable," said Sen. Pat Stefano, R-Connellville, whose 32nd district includes Somerset County.
"The governor clearly attempted to create a crisis in his response to not getting the money that he demanded from the Legislature," Stefano continued. "I believe the layoffs could have been avoided or made less drastic. The idea that this governor was able to keep government operating and spending money during an 18-month budget standoff, but couldn't do so in this situation, seems suspect to me."
The Legislature will demand accountability, Stefano said, pointing to the ongoing audit and the internal review, which already showed errors from the past....
"We have to demand accountability when our tax dollars and departments are not properly managed, which is why I'm pleased to see that the deputy secretary responsible for this has resigned," Stefano said.
The senate will continue to work with the governor and Labor and Industry to resolve the crisis and help those seeking benefits, Stefano said.
"Constituents needing assistance are calling my office and we are assisting them in applying online, which remains the most efficient way of accessing unemployment benefits," Stefano said.
"We can also help in getting answers from the department if they have issues with their application."
You can find the full article here.
---
Stefano: State Grants Awarded to Volunteer Fire, EMS Companies
I was pleased to announce this week that State grants totaling more than $1.031 million were awarded for volunteer fire, EMS and ambulance companies in the 32nd Senatorial District, This funding will help these organizations meet crucial public safety needs.
The grants are awarded as part of the Volunteer Fire Company and Volunteer Ambulance Company Grant Program, which helps eligible organizations fund facility renovations and/or construction, equipment purchases, debt reduction and training.
Our Volunteer Fire Departments and EMS services help protect our communities, I'm pleased that we continue to support them with these critical grant dollars. We must continue to seek out ways to support these community assets through funding and legislation that eases the burdens that they face.
Grants were awarded to the following counties.
Fayette County — $569,922
Somerset County — $354,569
Westmoreland County — $106,597
To view all fire companies and grant awards, click here.
Pennsylvania has a long history of volunteerism dating back to the creation of the nation's first volunteer fire company in 1736. As today's volunteers continue this rich tradition of protecting their friends and neighbors, these grants will help ensure they have the tools and training they need to perform their duties safely and effectively.
---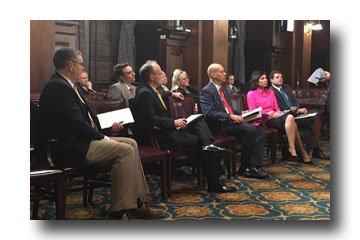 Ahead of today's budget address I took part in a Taxpayer's Caucus meeting with members of both chambers. The Taxpayers Caucus is dedicated to finding savings in government and promoting reform and transparency. Last year we identified $3 billion in savings and revenue that was ignored by this administration.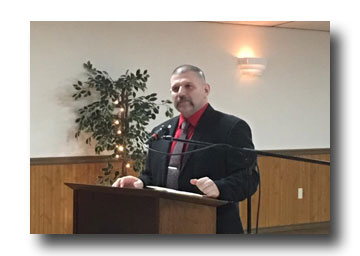 I was honored to present a Senate Citation Saturday night for Windber Fire Company #1 to their chief Robert Haddad for his exemplary service over the past 30+ years. Congratulations to you and the entire department for your sacrifice and hard work to protect your community.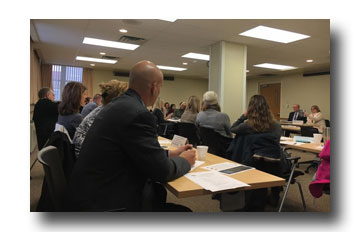 We had a full house at the Somerset County Drug Free Communities meeting on Thursday morning. We spoke about the ways to alleviate our community's suffering from the drug epidemic and about the We Will Recover townhall on March 14 in Somerset put on by Somerset Hospital's Twin Lakes Center. For more details, see the flyer below.