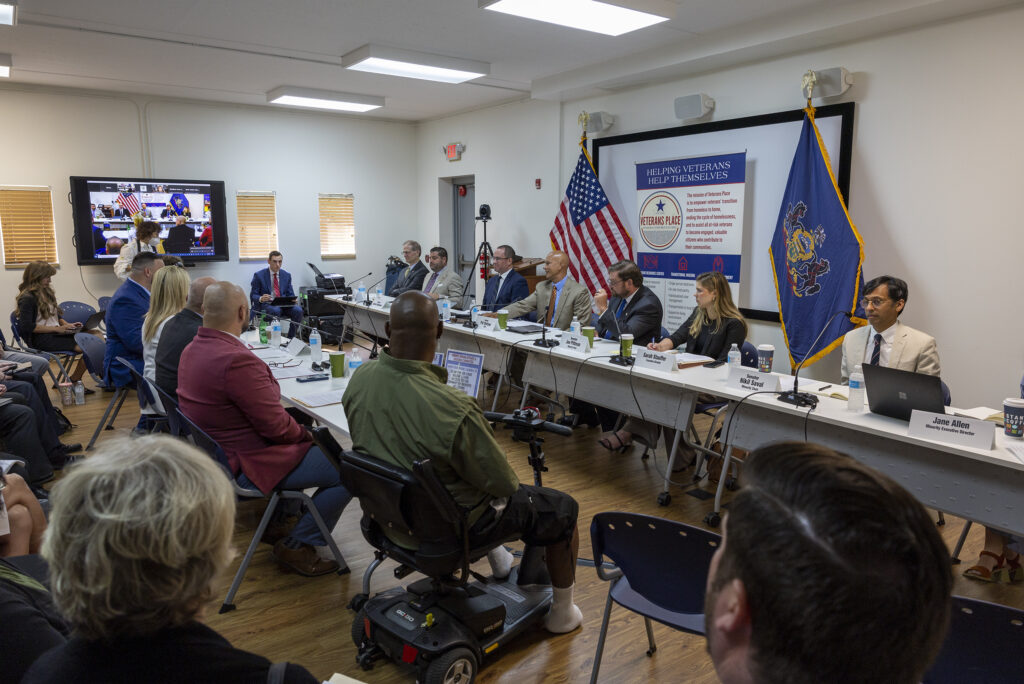 HARRISBURG – Sen. Pat Stefano (R-32), chair of the Senate Veterans Affairs and Emergency Preparedness Committee, and Sen. Joe Pittman (R-41), chair of the Senate Urban Affairs and Housing Committee, hosted a joint hearing to learn about the progress made to combat veteran homelessness, as well as what improvements can still be made.
Testifiers explained that a strong collaboration between federal, state and community partners is critical to most effectively help veterans – particularly when they have circumstances that present unique challenges like being responsible for a larger family or a pet.
"Housing instability affecting the older veteran population, women veterans or veterans caring for children, and veterans who have a companion animal, need to be considered when developing plans for emergency shelter beds, transitional housing, and creating more affordable, accessible housing," said Brig. Gen. Maureen Weigl, Deputy Adjutant General for Veterans Affairs, Pennsylvania Department of Military and Veterans Affairs.
Other testifiers highlighted struggles including not having DD-214 papers for veterans, which delays being able to connect veterans with services and programs that are designated for them, and the income cutoff for those services being too low.
One example of a community program to help veterans is Veterans Place on Washington Boulevard in Pittsburgh, which provides a safe haven where veterans can continue their recovery from chronic mental illness.
"Today, we heard about the great work being done at Veterans Place on Washington Boulevard, as well as other ways groups are trying to help veterans, including tiny homes and faith-based counseling. A lot is being done for the benefit of our veterans, and it's important to get the word out so they know about the services available to assist them in moving forward in their life," Stefano said.
"While we heard some stories about despair, we also heard incredible stories from veterans who were struggling but got the help that we're here to highlight today. Hearing how dedicated they are to doing the work to help others who are experiencing the same issues was truly inspirational," Pittman said.
CONTACT: Nathan Silcox, 717-787-7175 (Stefano's office)
Sarah Stauffer, 717-787-8724 (Pittman's office)