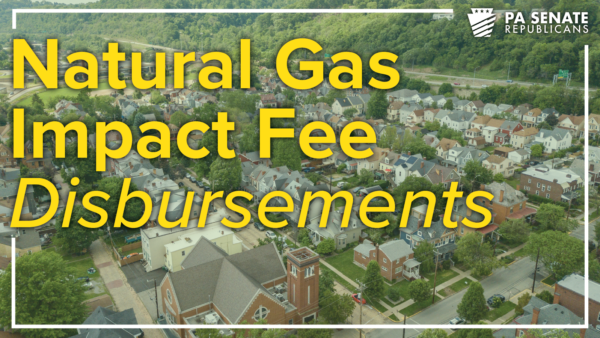 HARRISBURG – The Impact Fee on unconventional natural gas wells will deliver nearly $3 million to Fayette County, according to Sen. Pat Stefano (R-32) and Reps. Charity Grimm Krupa (R-51) and Ryan Warner (R-52).
Impact Fees are levied in addition to regular business taxes paid by every corporation in Pennsylvania. The disbursements were based on a formula established in Act 13 of 2012 to ensure communities affected by drilling receive their fair share of funding for projects such as road and bridge repairs, housing and other infrastructure needs.
"This funding is a serious infusion into the county that will go far in advancing important projects like improving water treatment, mitigating flood issues and restoring parks," Stefano said. "Natural gas continues to help our communities."
Fayette County will receive $1.2 million, and the county's local governments will receive $1.8 million.
"These record-breaking Impact Fees are just another way the natural gas industry benefits our Commonwealth," Grimm Krupa said. "In addition to producing a vital energy source and creating hundreds of thousands of jobs, the Impact Fees will help make Fayette County a better place."
With the 2022 distribution, the natural gas industry, which provides thousands of family-sustaining jobs, has paid $35.8 million in Impact Fees to Fayette County since 2012.
"These Impact Fees are a big help to our communities here in Fayette County," Warner said. "The funding goes a long way to help address the impacts of natural gas drilling on our communities while also allowing us to benefit from the valuable energy resources and jobs provided by the industry."
A complete list of disbursements to counties and municipalities is available on the Pennsylvania Public Utility Commission's website at www.puc.state.pa.us.
CONTACT: Jake Gery