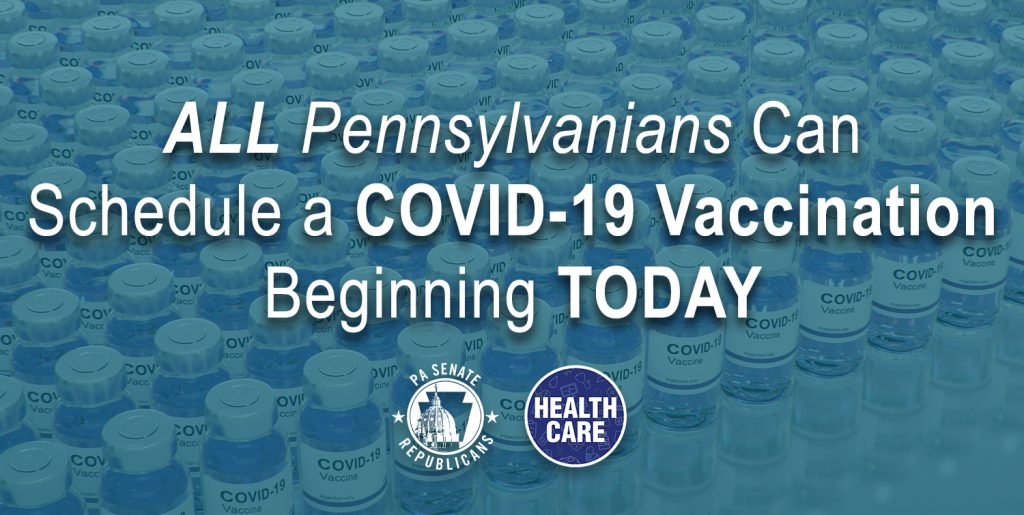 I am pleased to hear that today, April 13, the Department of Health (DOH) in conjunction with the COVID-19 Vaccine Task Force announced the all Pennsylvanians aged 16 and older will be eligible to schedule vaccination appointments.
Below you will find county-specific information on where to find vaccinations in your area. If you have friends, family members, or neighbors who are not able to sign up online, they may also choose to reach out to my offices in Connellsville at 724-626-1611 or Somerset at 814-443-2053. My staff would be happy to assist them with obtaining an appointment in their neighborhood.
For Fayette County Residents: I encourage you to sign up for the Fayette County COVID-19 Vaccine Taskforce's vaccination registry to help streamline this rollout locally. The task force will continue to assist vaccine providers in scheduling vaccinations here in Fayette County to ensure a vaccine for everyone who wants one.
If you would like to sign up for the Fayette Vaccine Registry, you can complete this by:
Once submitted, information will be added to the list of vaccine requests.
For Somerset County Residents: I encourage you to sign up with one of the providers receiving support from the Cambria-Somerset COVID-19 Task Force.
In Somerset, vaccines are being provided by:
CVS Pharmacy– Somerset
Highlands Health
Mainline Pharmacy
Giant Eagle Pharmacy
UPMC Somerset
For Westmoreland County Residents: The county has compiled an extensive list of providers across the county who are providing vaccinations to residents. In the 32nd District portion of the county, you can sign up for vaccinations at:
Dialysis Clinic Inc. Mount Pleasant
Genoa Healthcare 20270
Hayden's Pharmacy
Frick Hospital
Giant Eagle Pharmacy #0053
Rite Aid Store #10891
Rite Aid Store #02466
You can find the full Westmoreland County Vaccine Provider list by following this link: https://www.co.westmoreland.pa.us/2966/Vaccine-Provider-List
Pennsylvania Residents can also choose to use the Department of Health's Vaccine Provider Map to find a vaccine provider nearest them. The department has said that they will continue to update the map as the federal government increases the number of pharmacy chains receiving vaccine through the Federal Retail Pharmacy Partnership.