In this Update:
Stefano, Metzgar Announce $53 Million Secured to Boost Route 219 Project
Stefano, Dowling Announce $682,638 Grant to Reduce Stormwater Runoff
Applications Open for Watershed Cleanup Grants
Share Your Views on PennDOT's Winter Services
Summer Camp for Teens Interested in Law Enforcement, Military
Call 811 Before Excavation Projects
Child Abuse Prevention Month
Around the District
---
Stefano, Metzgar Announce $53 Million Secured to Boost Route 219 Project
Sen. Pat Stefano (R-Fayette/Somerset/Westmoreland) and Rep. Carl Walker Metzgar (R-Somerset/Bedford) announced $53 million of Appalachian Development Highway System (ADHS) funds has been secured for the U.S. Route 219 project.
Stefano and Metzgar said the funding is a huge step forward in completing the final 5.5-mile segment of U.S. Route 219 from Meyersdale to the Pennsylvania-Maryland border.
"Route 219 is a critical freight corridor in our region, and this expansion will increase local businesses' access to both the southwestern region of Pennsylvania and Maryland, which is a huge economic driver," Stefano said. "Special thanks to the stakeholders who worked so hard to ensure the project would be eligible for the federal infrastructure dollars, enabling construction to begin sooner than it would have otherwise."
"This money will get us through the end of the environmental stages of the project," said Metzgar. "Completing this project is of utmost importance because of the economic and transportation benefits it provides. While I am disappointed that pre-construction costs are this expensive, that is a fight for another day. I am simply thrilled to keep the project moving in the right direction."
The Appalachian Regional Commission (ARC), which was established in 1965, determines the distribution of funding. ARC estimated that Pennsylvania would receive $87.5 million over a five-year period.
Stefano, Dowling Announce $682,638 Grant to Reduce Stormwater Runoff
The Joe Walker Manure Storage in the Somerset County Conservation District has been awarded a $682,638 grant to address manure and stormwater runoff issues, Sen. Pat Stefano (R-32) and Rep. Matt Dowling (R-51) announced today.
A new circular manure storage structure will be constructed to hold manure, washwater and bedding from the herd for up to six months, eliminating the impacts of overflow and runoff from land application. Best management practices will be applied and will contribute to the elimination of sedimentation and nutrient runoff with the addition of a roofed, heavy-use and manure stacking area to be used during winter months, in addition to the stabilization and resurfacing of silage pads and field lanes.
"This grant money will do a wonderful job balancing the area's agricultural priorities with the need to preserve our waterways. That's especially important because Blue Lick Creek flows into Casselman River and then eventually the Ohio River," Stefano said. "Pollutants in our shared waterways affect everyone, so I am pleased that the funding will address the issue."
Annually, the project will eliminate approximately 6,267 pounds of sediment, 5,794 pounds of nitrogen and 2,511 pounds of phosphorus.
"The Somerset County Conservation District has done so much to ensure clean water for our region while partnering with area farmers and others to help them employ best management practices to protect that water supply," Dowling said. "This is an important investment in our community."
The money was awarded by the Pennsylvania Infrastructure Investment Authority (PENNVEST), whose mission includes funding sewer, storm water and drinking water projects throughout the Commonwealth that contribute to improving the environment and public health, as well as provide opportunities for economic growth and jobs.
Applications Open for Watershed Cleanup Grants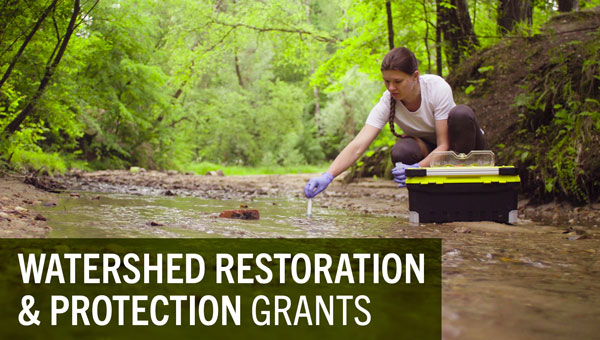 Applications are being accepted for Growing Greener Plus grants to help protect creeks, rivers and other waterways from pollution and restore impaired watersheds.
The funding supports projects aimed at reducing nonpoint source pollution, which is caused by abandoned mine drainage, urban and agricultural runoff, on-lot sewage systems, earthmoving, and streambank and shoreline degradation.
Eligible applicants include counties, municipalities, municipal authorities, county conservation districts, watershed organizations, councils of governments, educational institutions and other authorized organizations involved in water resource restoration and protection.
Share Your Views on PennDOT's Winter Services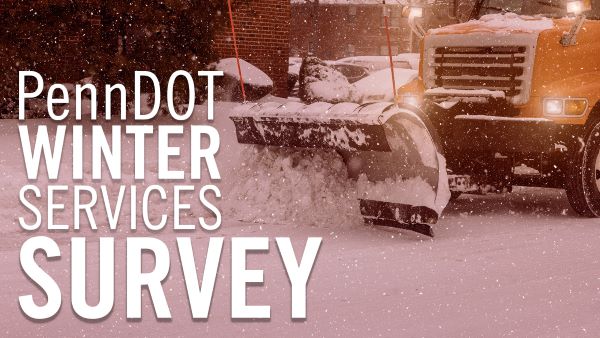 How did PennDOT do this winter? Motorists have until April 29 to provide feedback via an online survey.
The 17-question survey asks respondents about their timeline expectations for safe and passable roadways, how they rank snow-removal priorities and how they rate PennDOT's winter services.
The survey should take about five minutes to complete. All responses are completely anonymous.
Summer Camp for Teens Interested in Law Enforcement, Military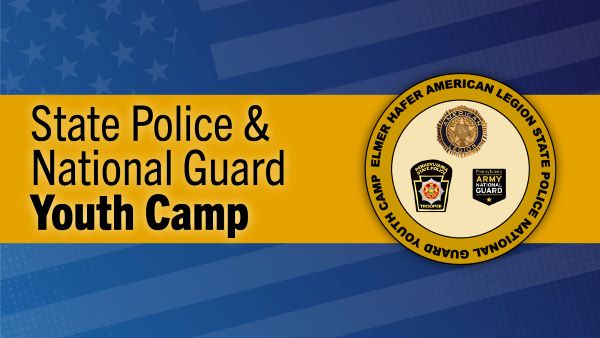 Teens ages 15 to 17 interested in a career in law enforcement or the military can apply now for a summer leadership camp held by the Pennsylvania State Police, Pennsylvania National Guard and the American Legion.
The Elmer Hafer-American Legion-State Police-National Guard Youth Camp will be held June 5-11 at Messiah University in Mechanicsburg, Cumberland County. The cost is $175.
During the camp, cadets work on team-building exercises, physical fitness training, classroom activities involving police and military careers and a marksmanship course. Cadets will also visit the State Police Academy in Hershey and Fort Indiantown Gap National Guard Training Center in Lebanon County. In addition, the camp offers three $1,000 scholarship awards at the conclusion of the week.
Call 811 Before Excavation Projects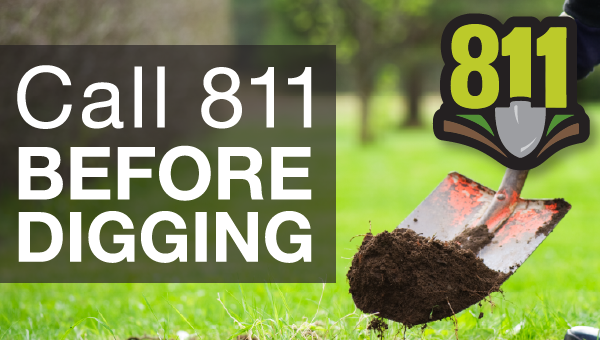 Nearly half of all underground line "hits" occurring during excavations are caused by failure to contact the PA One Call system by calling 811 before digging, or failure to wait the required three business days before projects begin.
The Pennsylvania Public Utility Commission is using Safe Digging Month to remind homeowners, businesses, contractors and anyone else involved in excavation projects of the importance of calling 811 before any project begins and allowing time for utility operators to locate and mark their lines before any digging.
Hits on underground lines pose a danger to contractors, utility workers, nearby residents and bystanders. Each incident carries the possibility of serious injuries, service interruptions and costly repairs.
Child Abuse Prevention Month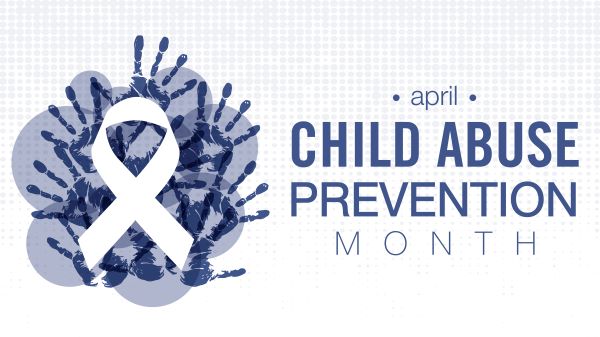 April is Child Abuse Prevention Month, a time to rededicate ourselves to strengthening families and preventing child abuse and neglect.
The U.S. Department of Health and Human Services provides an array of information aimed at preventing child abuse, protecting children from the risk of abuse and promoting healthy families.
Around the District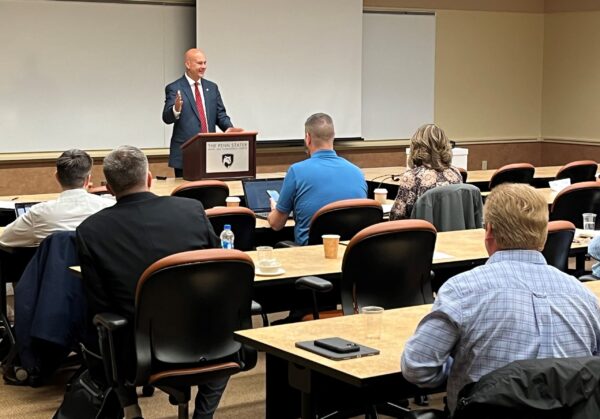 On Wednesday, I addressed the Pennsylvania Telephone Association at their Spring Meeting in State College. We discussed two very important 3-digit numbers — the 9-1-1 emergency call system and the 9-8-8 Suicide Prevention lifeline. The new 9-8-8 system will be fully operational nationwide this July and the 9-1-1 law will need to be reauthorized in 2024. The Senate Veterans Affairs & Emergency Preparedness Committee has been heavily involved in both issues.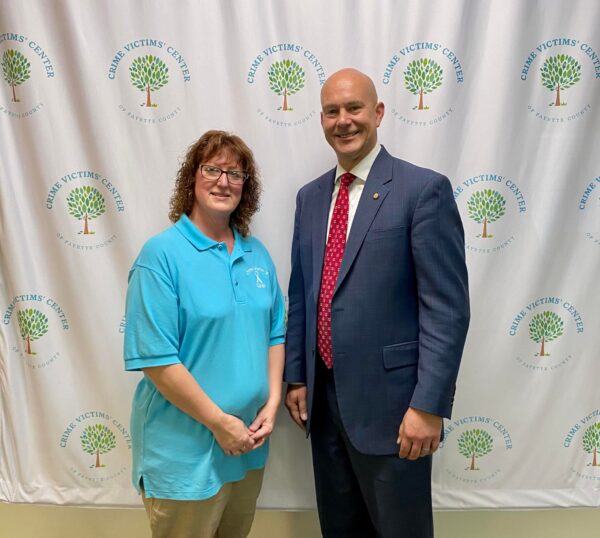 On Wednesday, I had a chance to tour the Crime Victims' Center of Fayette County and see the work they're doing there. Thank you to the people at the Crime Victims' Center for having me and for the important work you do in District 32.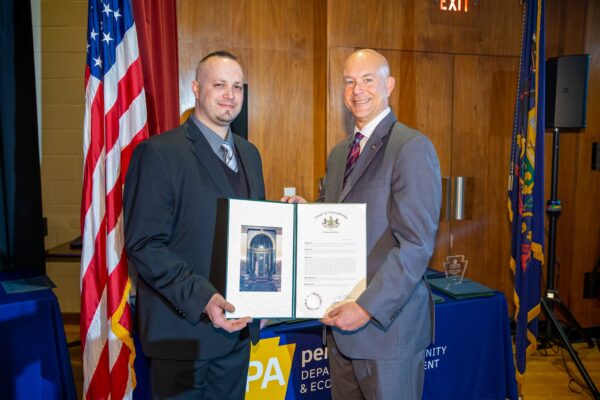 Last week, I had the honor of presenting the Mayor of Brownsville, Ross Swords, a citation along with his 2022 Governor's Award for Local Government Excellence. Ross has been serving the community in some capacity since he was just 21 years old. He started as a volunteer fire fighter, where he held several positions over the last 16 years, including Fire Police Captain, Vice President, and he is currently Brownsville's Fire Police Lieutenant. He was also elected as a Constable in the Borough at 21 years old, a position he still holds. Ross decided to run for office and was successful in being the youngest person ever elected to the position of Councilman the Borough of Brownsville. Once elected, Ross chaired the Public Safety and the Buildings and Grounds Committees. Ross then ran and won for Mayor, where he still holds that position today. Once again, he is the youngest person to hold that position within the Borough.
Thank you, Ross, for your dedicated service to Brownsville. I can't think of a more deserving person for this recognition.