In this Update:
Highlighting Solutions to EMS Struggles
Senate Approves Poll Watcher Empowerment Act to Increase Election Oversight, Integrity
Senate Acts to Protect Women's Sports
VAEP Chairman Stefano Leads Meeting to Recommend National Guard Promotions
Joint Hearing on Government Data Breach Notification
Capitol Rally Aims to Stop Wolf Bridge Tolling Plan
Scammers are Stealing Military Pensions
National Fishing and Boating Week
Around the District
---
Highlighting Solutions to EMS Struggles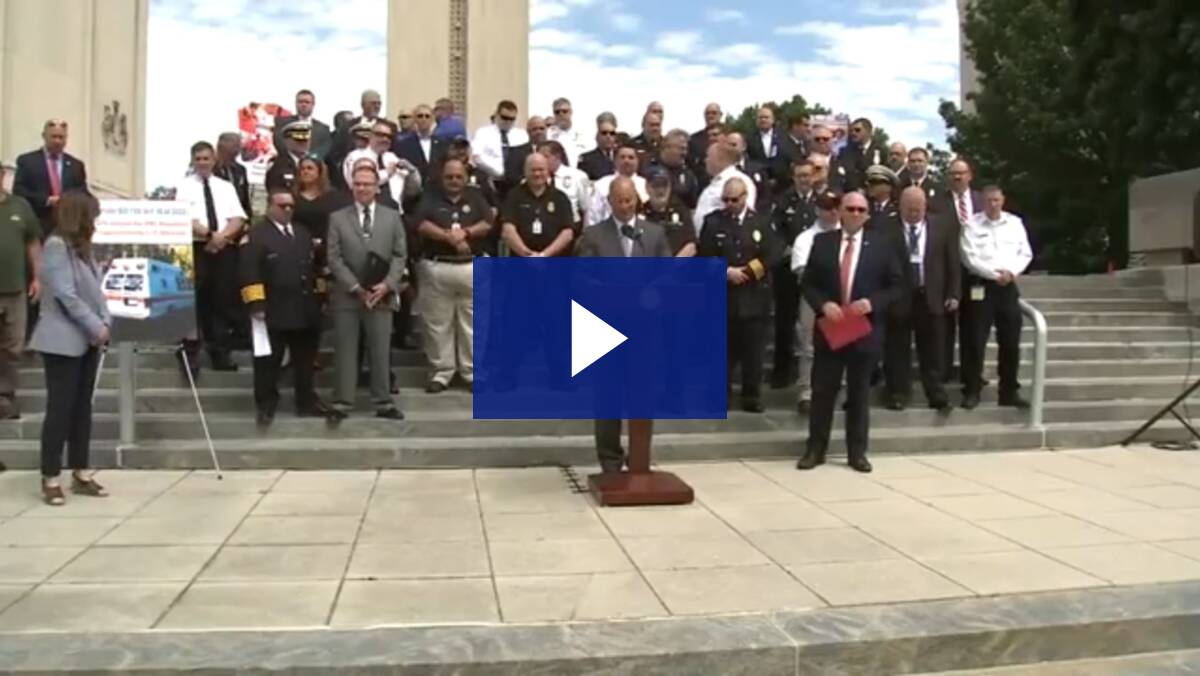 Stefano, Others Highlight Solutions to EMS Struggles – Senator Pat Stefano
As chair of the Senate Veterans Affairs and Emergency Preparedness Committee, I hosted a press conference to highlight legislation that would address issues faced by the emergency medical services (EMS) community on Monday, June 6, at 11 a.m. in front of the Emergency Responder Plaza along North Street in Harrisburg.
In February, the General Assembly passed a bill I sponsored, Senate Bill 739, now Act 10 of 2022, which provided $25 million to our EMS providers.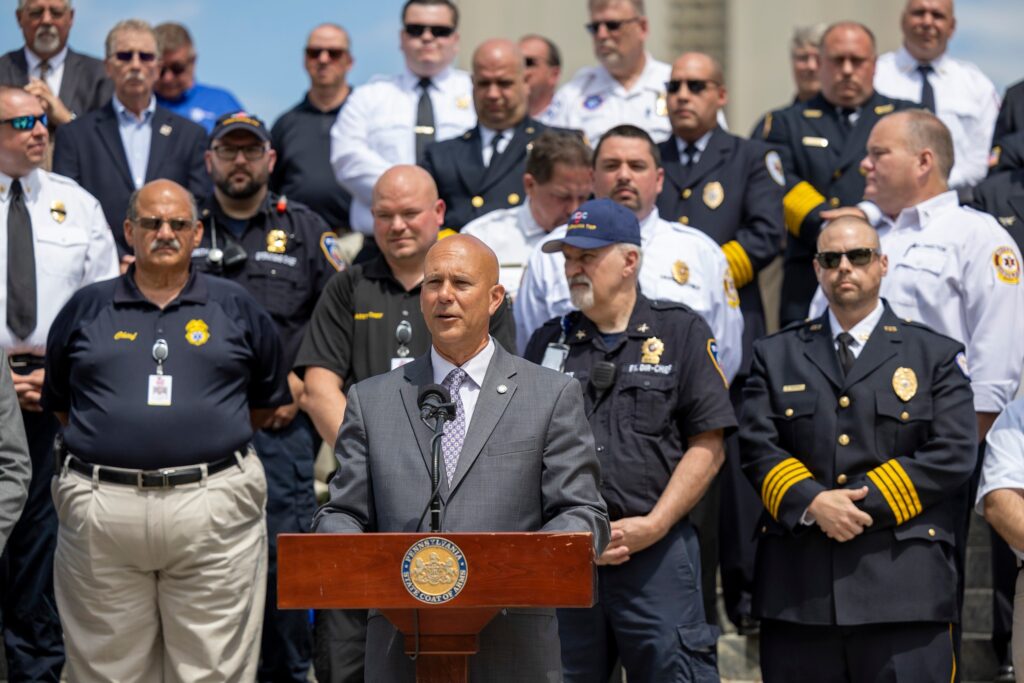 House Bill 2097 would make permanent a COVID-19 waiver, which would enable emergency responders to help more people. It would allow certified emergency personnel – such as first responders with specific first aid, CPR and emergency vehicle training – to drive ambulances with an emergency medical technician (EMT) on board. While it was permitted a few years ago, regulations have since been changed to increase the number of EMTs required per ambulance.
House Bill 2434 would increase the reimbursement rates under Medicaid for EMS providers, who have received only two increases in reimbursement for transporting individuals covered by Medicaid in the last two decades.
A huge thank you to PA State Rep. Martin Causer, Senator Chris Gebhard, Senator Lisa Baker, Senator Katie Muth, Senator Lindsey Williams, and the dozens of EMS personnel from across the Commonwealth for coming out to support our EMS providers and this legislation.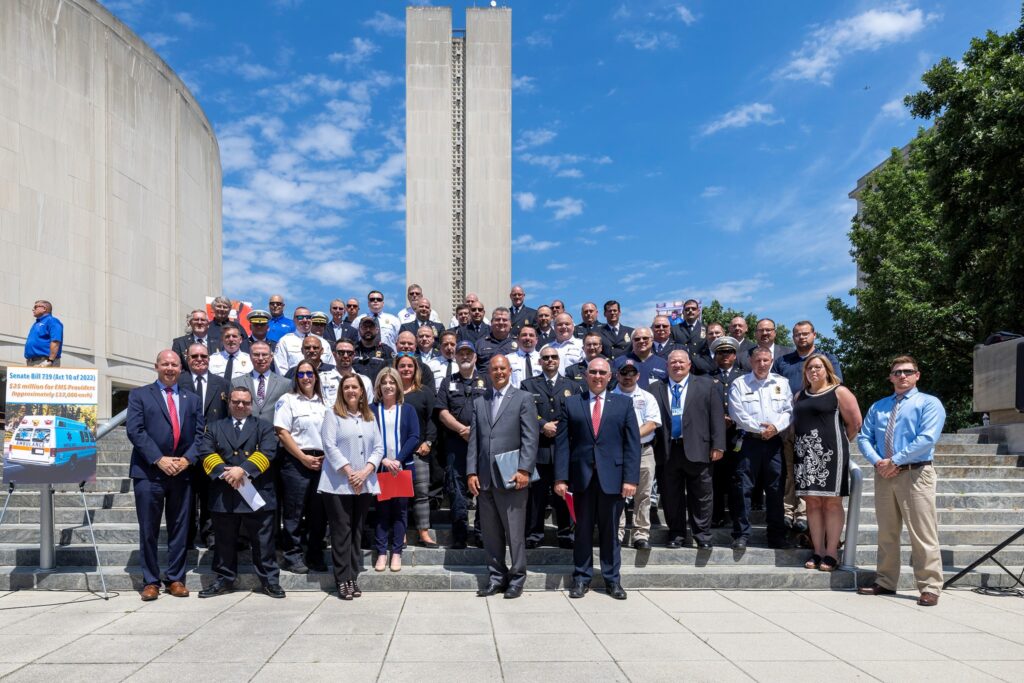 Senate Approves Poll Watcher Empowerment Act to Increase Election Oversight, Integrity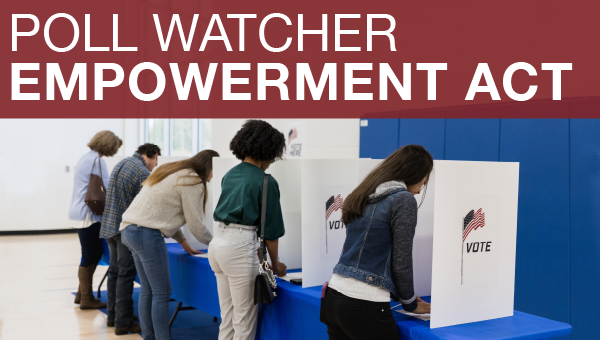 The Senate approved the Poll Watcher Empowerment Act to ensure election laws are strictly adhered to and improve confidence in Pennsylvania's elections.
Senate Bill 573 would allow all registered Pennsylvania voters to be eligible to be a poll watcher in any precinct in the state and ensures poll watchers can clearly observe the pre-canvassing and counting of all ballots.
The bill would stiffen penalties against any election official who blocks, impedes or otherwise intimidates a poll watcher on Election Day. It would not change any duties, powers or responsibilities of poll watchers. Senate Bill 573 was sent to the House of Representatives for consideration.
The bill is the third election integrity measure passed by the Senate this year, along with the elimination of controversial ballot drop boxes and prohibiting third-party funding of elections.
Senate Acts to Protect Women's Sports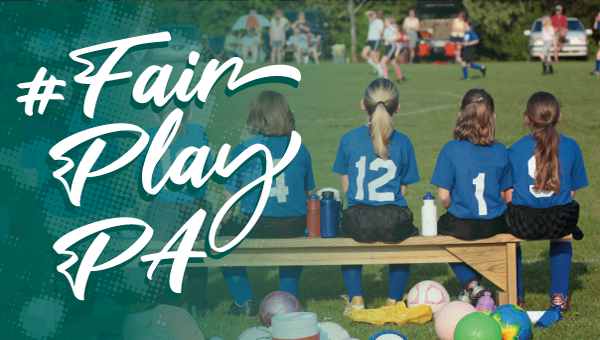 The Fairness in Women's Sports Act, which protects the integrity of women's sports in Pennsylvania, was approved by the Senate. The bill advances to the House of Representatives for consideration.
Senate Bill 1191 states that school athletic teams designated for women should not be open to those of the male sex. The bill defines "sex" as the biological distinction between male and female, based on reproductive biology and genetic make-up.
The bill was introduced earlier this year after concerns grew about preserving the increased athletic opportunities female students have gained since Title IX was enacted 50 years ago next week.
VAEP Chairman Stefano Leads Meeting to Recommend National Guard Promotions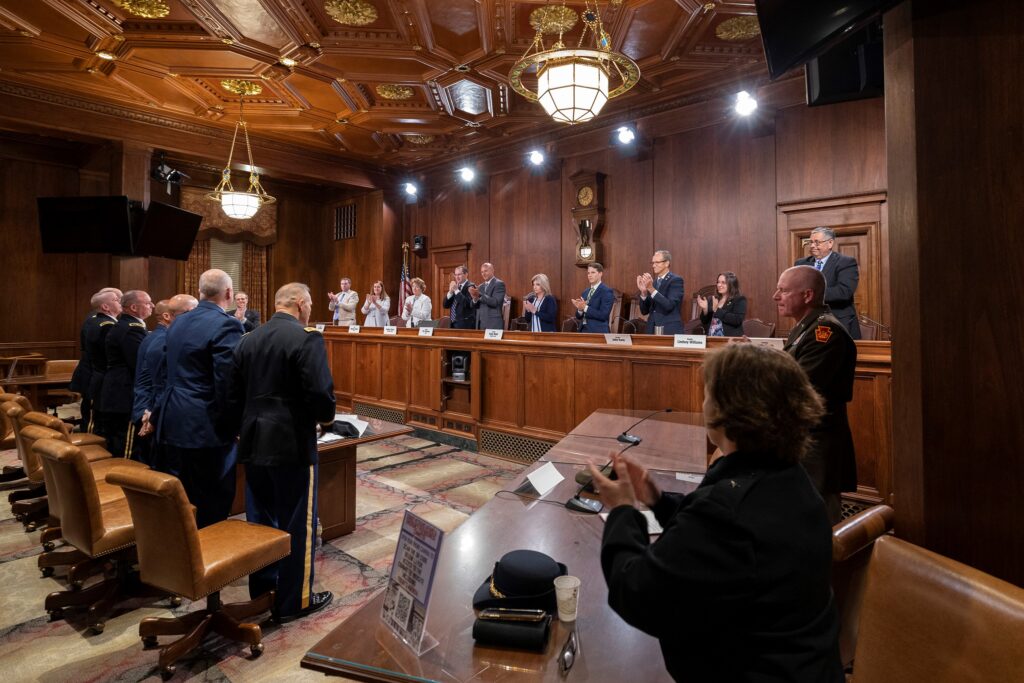 On Monday, the Senate Veterans Affairs & Emergency Preparedness Committee met to consider the following Pennsylvania National Guard Officers nominated for promotion:
Colonel to Brigadier General
Col Leland D. Blanchard II (PA Army National Guard)
Col Raymond L. Hyland, Jr. (PA Air National Guard)
Col Richard F. McMullen (PA Air National Guard)
Brigadier General to Major General
BG Terrence L. Koudelka, Jr. (PA Air National Guard)
BG James G. McCormack (PA Army National Guard)
BG Carl T. Reese (PA Army National Guard)
BG Michael E. Wegscheider (PA Army National Guard)
The Committee unanimously approved a motion to report the nominations with a favorable recommendation.
All told, these officers have a combined 171 years of National Guard service. I congratulate each of the officers on their promotions. Promotions in the general officer ranks of the military and especially within our National Guard are rare and important occasions. Only one percent of all officers in the Army ever get a "Star," designating a general. I know that this is not an easy climb – particularly of the past several years — and it is not accomplished without a supportive family and many good people beside you.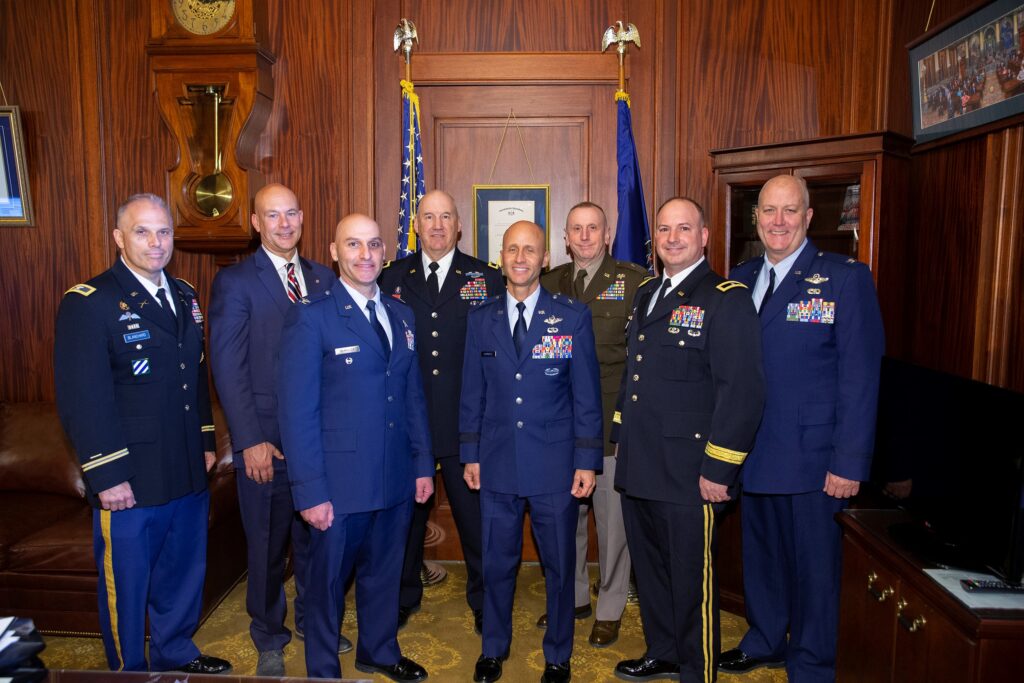 In addition the Committee advanced three bills.
*SB 1141 would provide the PA Department of Military & Veterans Affairs flexibility as it comes to the future use of the former Lt. Governor's Mansion, located at Ft. Indiantown Gap.
*SB 1265, sponsored by Sen. Stefano, would require the Office of State Fire Commissioner to establish a Fire Course Registry.
This legislation would provide a central repository for a firefighters' training credentials, so that a firefighter and his/her fire chief can easily access them, rather than having to retain hard copies. All too often, firefighters are having to dig up their credentials. With this legislation, it will be at the fingertips.
*HB 2097 would extend the ambulance Staffing Waiver until April 29, 2027.
Currently, our EMS providers are struggling to comply with a state mandate as it comes to the number of certified personnel on an ambulance. This legislation, which was necessitated during the COVID-19 Emergency Declaration is still needed and is a priority of the EMS community.
Each of the bills head to the full Senate for further consideration.
Joint Hearing on Government Data Breach Notification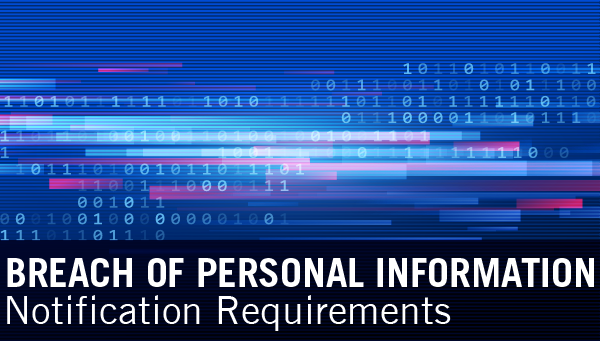 Legislation requiring timely notification to victims of a state or local government data breach was the topic of a joint Senate/House public hearing.
The Senate Communications and Technology Committee and the House State Government Subcommittee on Government Information Technology and Communication held the gathering to review Senate Bill 696.
The panels heard from representatives of the Department of General Services, the State Privacy and Security Coalition, and the Cybersecurity Association of Pennsylvania. You can view the hearing and read testimony here.
Capitol Rally Aims to Stop Wolf Bridge Tolling Plan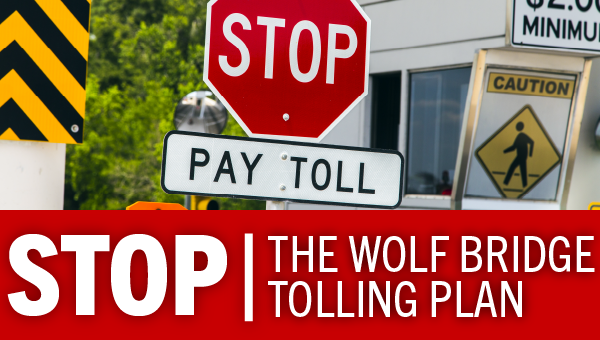 The No P3 Bridge Tolls Coalition was joined by lawmakers at a capitol rally Wednesday to voice opposition to the Wolf administration's plan to toll interstate bridges in Pennsylvania.
The Pennsylvania Department of Transportation's (PennDOT) plan proposes tolling to pay for bridge projects and has received an overwhelming amount of disapproval, including citizens, members of the General Assembly, local officials and business operators.
PennDOT's Public-Private Partnership (P3) bridge tolling initiative would cost the average commuter an additional $1,000 per year and was moved through the process without legislative input nor approval.
The Senate passed Senate Bill 382, which reforms the P3 statute and voids PennDOT's plan. However, Gov. Wolf has stated that he will veto the bill. Commonwealth Court temporarily halted the tolling plan. The Wolf administration has appealed to the Pennsylvania Supreme Court.
Scammers are Stealing Military Pensions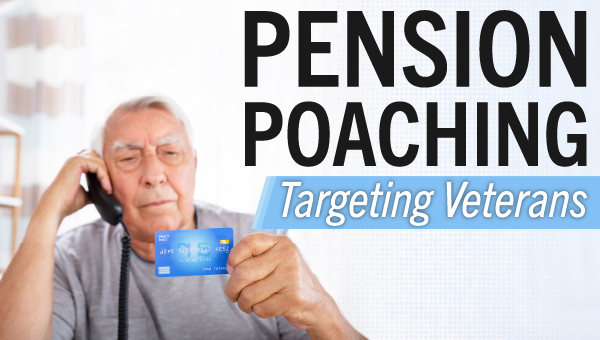 Pennsylvania veterans and their advocates should be aware of an increase in scammers looking to poach their VA pensions, warns the Pennsylvania Department of Military and Veterans Affairs (DMVA).
"Pension poaching" occurs when scammers or dishonest financial planners charge veterans or their beneficiaries for help in applying for or submitting applications for VA pensions. The scheme often involves financial maneuvers such as advising claimants to hide their assets in trusts or annuity products sometimes resulting in lost investments and lucrative fees paid to the advisor.
The DMVA says veterans and their advocates should remember to never share their VA login information, or deposit VA benefits directly into a third-party bank account unless the person is court appointed or a VA accredited fiduciary. More on avoiding pension poaching, and what to do if you know someone who was targeted, can be found here.
National Fishing and Boating Week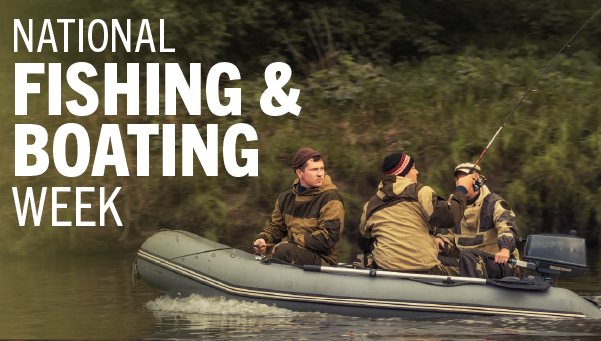 Pennsylvania has multiple settings for fishing and boating, whether you're an expert or a beginner.
HuntFishPA.com is a good place to start to find out what you need to enjoy angling. The PA Fish and Boat Commission can help you find the best waters for fishing and information on fishing licenses, fishing seasons and more.
Boating Safety Education Certificates are required to operate a personal watercraft and for persons born on or after Jan. 1, 1982, to operate boats powered by motors greater than 25 horsepower. People who successfully complete an approved boating course are issued a Boating Safety Education Certificate good for a lifetime.
Around the District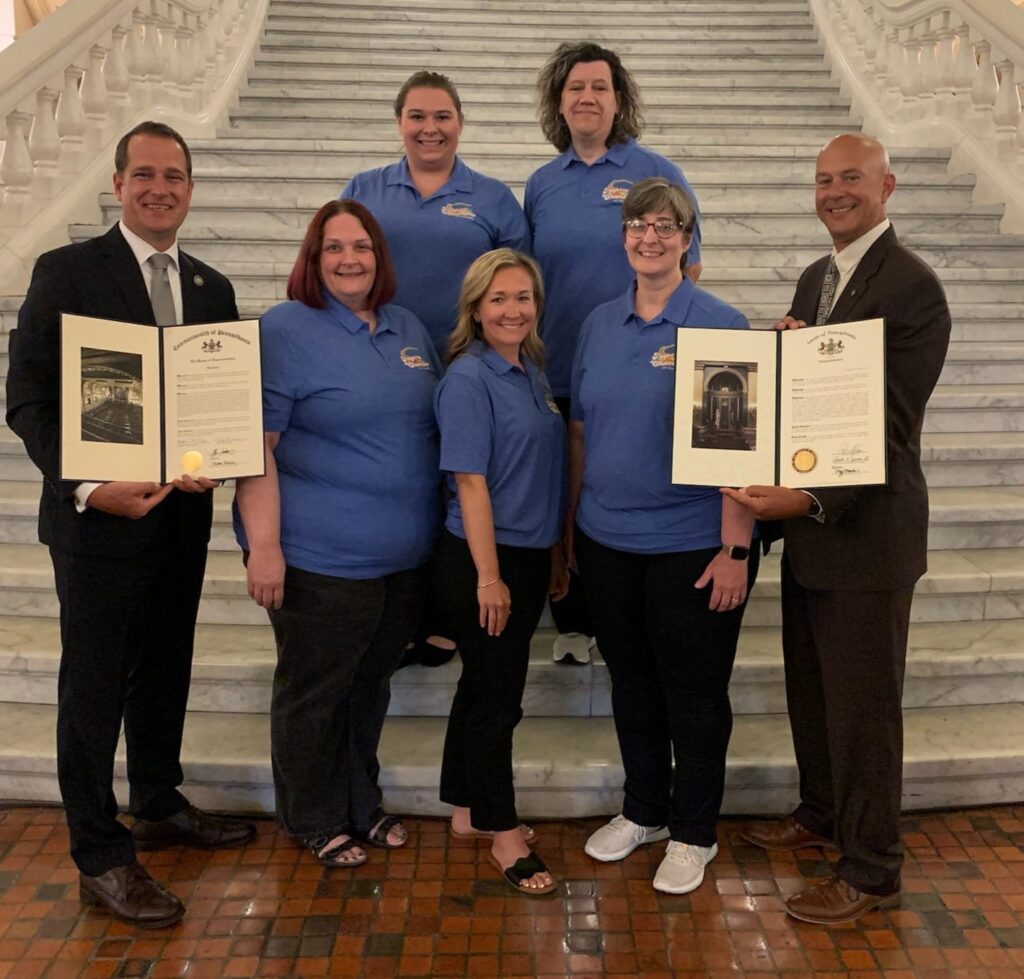 I was grateful to see staff of the Fayette Chamber in Harrisburg on Tuesday for the PACProfessionals and Pennsylvania Chamber of Business and Industry 's Chamber Day at the Capital! State Representative Ryan Warner and I were able to present citations in recognition of the Fayette Chamber being awarded the 2021 Chamber of the Year! Thank you for all of your hard work to make Fayette County the place to do business!