Dear Friend,
Please find an update on what has been happening in Harrisburg and around the 32nd District below.
Pat Stefano

Budget Overview
For the first time since I was sworn in as a State Senator, I am pleased to announce that we sent to the Governor an on-time budget, the first that he will actually sign into law. That turnaround is a testament to the principles that have guided us through all of the recent years' budgets – limited spending and avoiding tax increases.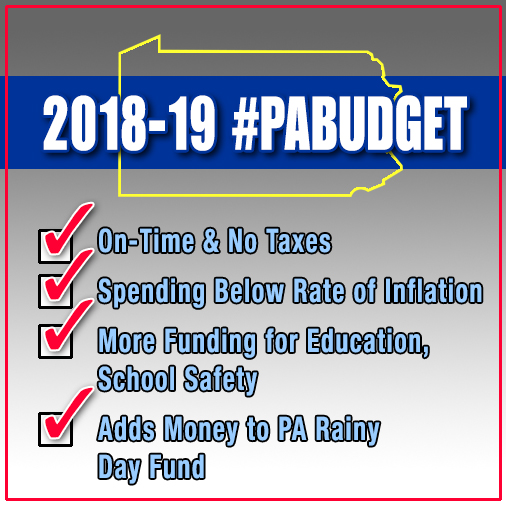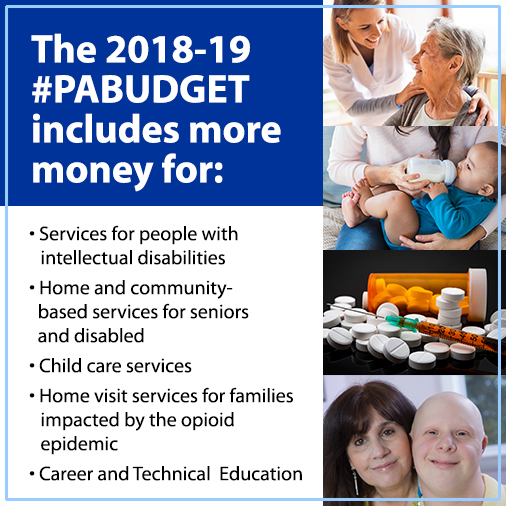 After several years of embracing conservative budgeting and rejecting Governor Wolf's spending hikes that included $4 billion in new taxes, we find ourselves on strong financial footing. The fiscally responsible budgets passed by the General Assembly the past three years were $5 billion less than the spending plans the Governor proposed. Instead of multi-billion-dollar deficits, we now have a small surplus.
It's pleasing to see that this year we're not talking about raising taxes, we're meeting our needs and expenses, and we're addressing certain issues that are important to all of us. The final spending total of $32.7 billion is just $560 million over the current year's spending – below the rate of inflation, and well within the limits prescribed in the Taxpayer Bill of Rights. It also allocates money to the state's Rainy Day fund for the first time in more than a decade.
Other highlights include additional funding for:
Services for individuals with intellectual disabilities.
Home and community-based services for an additional 5,230 seniors and those with physical disabilities.
Pennsylvania State Police to train three new cadet classes, which will result in nearly 300 additional troopers
Child care services to an additional 1,600 children.
Home visit services for 800 families impacted by the opioid epidemic.
Career and Technical Education to ensure Pennsylvania's workforce keeps pace with the demands of the labor market.
Staying true to our principles, we have stopped the Governor's tax increases, restored the cuts to essential programs, and increased spending on many of our shared priorities. Our responsible budgeting and historic pension reform combined to help us meet our pension obligations without the need for a painful tax increase or cuts to critical programs. I'm hopeful that this good work can continue in budgets to come.
Education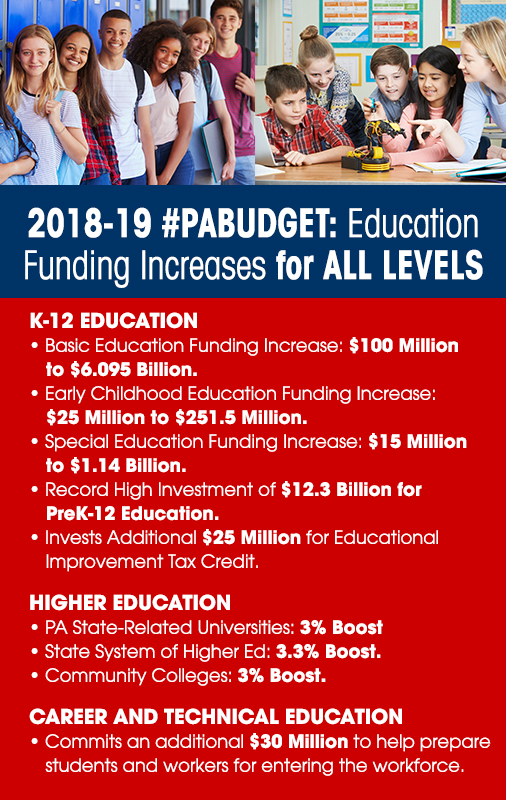 For the fourth year, I am proud to say that we have made a commitment to increasing education spending so that we can help our children meet the needs and challenges of our commonwealth in the uncertain future. A significant part of the additional spending in this year's budget is devoted to education.
The budget increases funding for Basic Education by $100 million, Pre-K Counts and Head Start by $25 million, and Special Education by $15 million. Educational Improvement Tax Credits – which help students trapped in failing schools – will also see a $25 million increase. Higher education is also a priority in the budget. State System of Higher Education funding will increase by 3.3 percent, and funding for state-related universities will increase by 3 percent. Community colleges will also see a 3-percent boost in funding.
Making further investments in education at all levels, while advocating policies that improve the efficiencies and finances of our schools, is the key to bringing the next generation of workers up with the tools and skills to face the challenges we can't yet comprehend. That's why this budget includes an additional $30 million for Career and Technical Education to ensure Pennsylvania's workforce keeps pace with the demands of the labor market. There is a growing demand for skilled labor jobs, and the rising number of available jobs in those fields shows no sign of stopping. The additional funding will ensure these family-sustaining positions can be filled by knowledgeable, qualified workers.
While we still have much work left to do, I believe that our work over the last four years to increase basic education spending a total of $500 million will give our children a better chance to succeed. Our investments in education will serve them well in an uncertain future.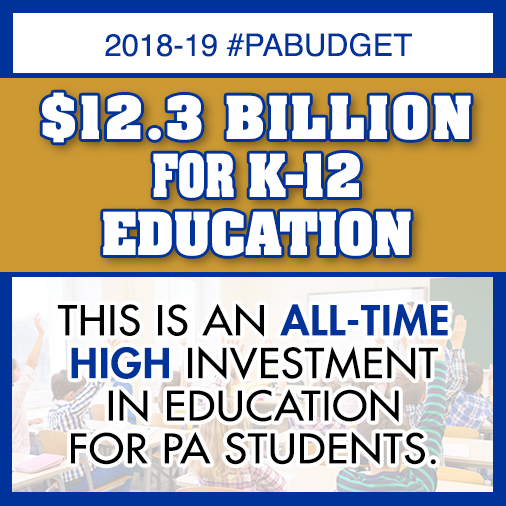 School Safety
One highlight of this year's budget I am particularly proud of is the historic investment we made in school safety. In this budget is more than $60 million in new funding for school resource officers, security equipment and other proven methods of preventing school violence. The additional funding for school safety grants will allow each school district to evaluate its needs and vulnerabilities and apply for funding to shore up any weaknesses that exist.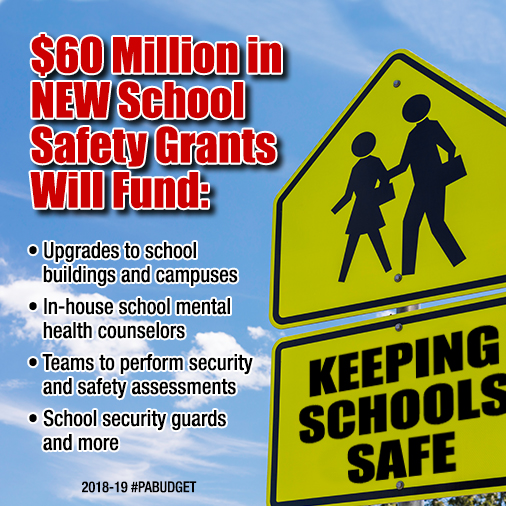 Part of the challenge in addressing school safety is the fact that every school district is different and has its own unique needs and circumstances. There is no one-size-fits-all approach. A number of measures have already been introduced to protect students, and our School Safety Task Force is still developing additional ideas to keep our kids safe.
While the funding is critical, we are fully aware that just throwing money at the issue won't solve the problem alone. The new money is just the beginning, not a conclusion. We will use the summer to hold hearings, gather pubic feedback and work on a final product. Addressing these bills will be our highest priority when we return to session in the fall.
Restoring Cuts in Agriculture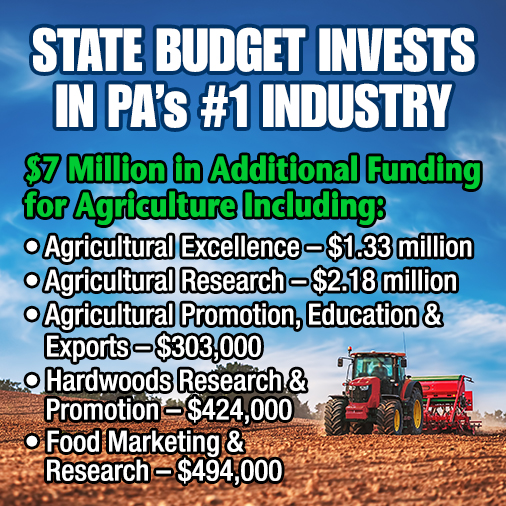 The budget also recognizes the importance of three industries that have historically been among Pennsylvania's most critical sectors of the economy, agriculture, restoring funding that the Governor's original budget plan cut.
The Governor's original budget plan would have gutted a number of critical agriculture items. Thankfully, we were able to restore those proposed cuts to programs like Spotted Lanternfly Control, Agriculture Excellence, Agricultural Research, Hardwoods Research and Promotion, Food Marketing and Research, and more. In total, programs under the Department of Agriculture will receive $10 million more than the Governor's original request.
The irresponsible cuts proposed by the Governor to agriculture ignores this industries' vital importance in our economy. I am pleased to see that my colleagues agreed to increase our investment in these industries.
Legislative Success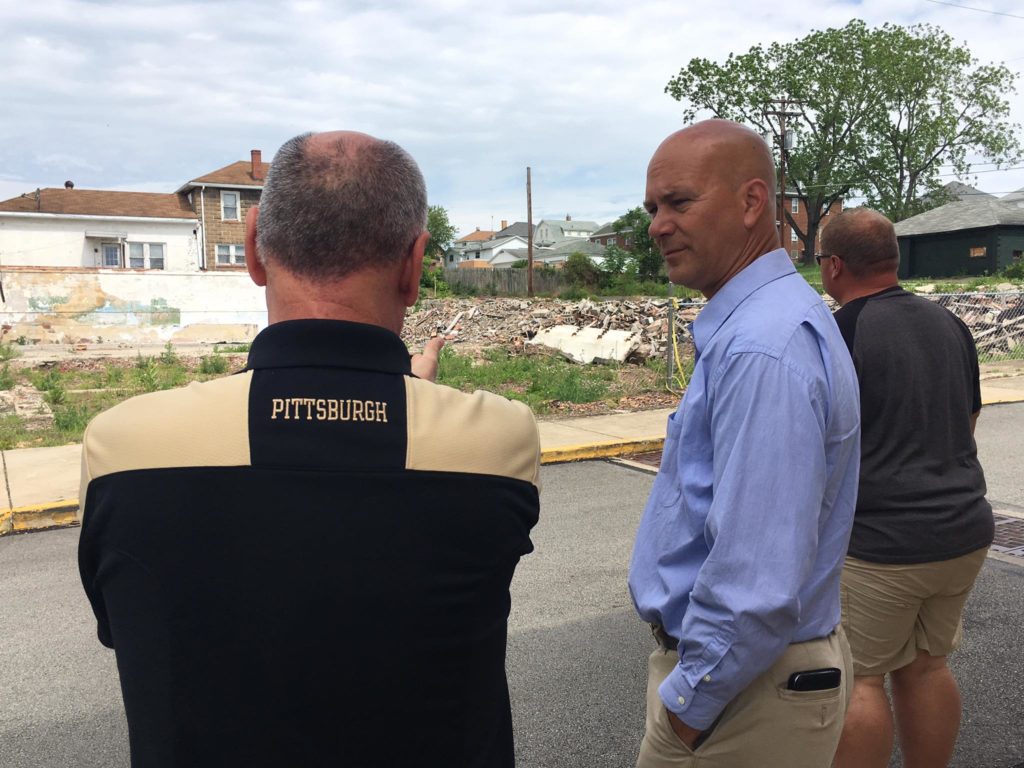 In addition to passing an on-time budget, the Governor signed my bill, Senate Bill 667, which would grant redevelopment authorities the same powers currently allotted to land banks through the Pennsylvania Land Bank Act, enabling them to take an active role in rehabilitating blighted properties and neighborhoods.
Unfortunately blight is like a cancer that spreads rapidly through our neighborhoods and risks the safety and the economic vitality of the communities we serve. In my district several areas looked into forming a land bank but found the startup costs and the recurring costs to maintain it too expensive. In many of the 16 land banks that have been formed, it has been Redevelopment Authorities that led the way and provided the staff support necessary for the land bank's operation.
This bill would grant redevelopment authorities the same powers as land banks, allowing them to acquire tax delinquent properties at a judicial sale without competitive bidding. The legislation would also enable redevelopment authorities to discharge tax liens on blighted properties, and to share up to 50% percent of the real property taxes for five years after conveyance of authority-owned property. It would also eliminate the need to form an entirely new entity in these municipalities, which can be redundant and cost-prohibitive, given the lack of resources and funding for these initiatives.
Blighted, abandoned properties pose a danger to the public, increase crime rates and reduce property values. This bill will offer another resource for municipalities with active redevelopment authorities to use in eliminating blight, rehabilitating properties and improving neighborhoods and communities while saving them money and avoiding costly and timely duplication of services. It is an important tool that we are providing those areas who have not been able to put together the resources necessary to form a land bank under current law.
The Governor is also expected to sign SB1101 which reforms the PA salvage title process, making it more consumer friendly and less costly for victims of theft.