Dear Friend,
Please find an update on what has been happening in Harrisburg and around the 32nd District below.
Pat Stefano

$500,000 State Grant Secured for New Business Park in Uniontown; Will Create Over 1000 Jobs
The Redevelopment Authority of the County of Fayette has been awarded a $500,000 state grant to create a new business park in North Union Twp.​
The centrally located park will host more than 45 businesses and is expected to create more than 1,000 jobs for area residents when complete.​
The establishment of a business park here in Fayette County is a huge economic boost for our county, and it will help to bring even more jobs to our area as the companies that locate here continue to expand and grow. Job-creation and economic development have been my top priority for this area, and I'm pleased that this project was chosen to receive funding. I appreciate all the work on the local level that was done to make this happen as well.
Fayette County Board of Commissioners Chairman Vince Vicites hailed the announcement, "I'd like to thank Governor Wolf, Senator Stefano and our entire legislative delegation for their support of this project. When I was first elected as Commissioner, Fayette County received a similar grant for the Fayette County Business Park on Route 40. Back then, it was a cornfield and after over $100 million in private investments it now is home to over 1 thousand employees at 45 businesses. With this grant as a foundation we will begin the next great economic development opportunity in Fayette County."
This is a clear sign of what can happen when state and local officials work together towards economic development.
The state funding comes from the Redevelopment Assistance Capitol Program (RACP) program. RACP is administered by the Office of the Budget for the acquisition and construction of regional economic, cultural, civic, recreational and historical improvement projects.
Coffee and Conversations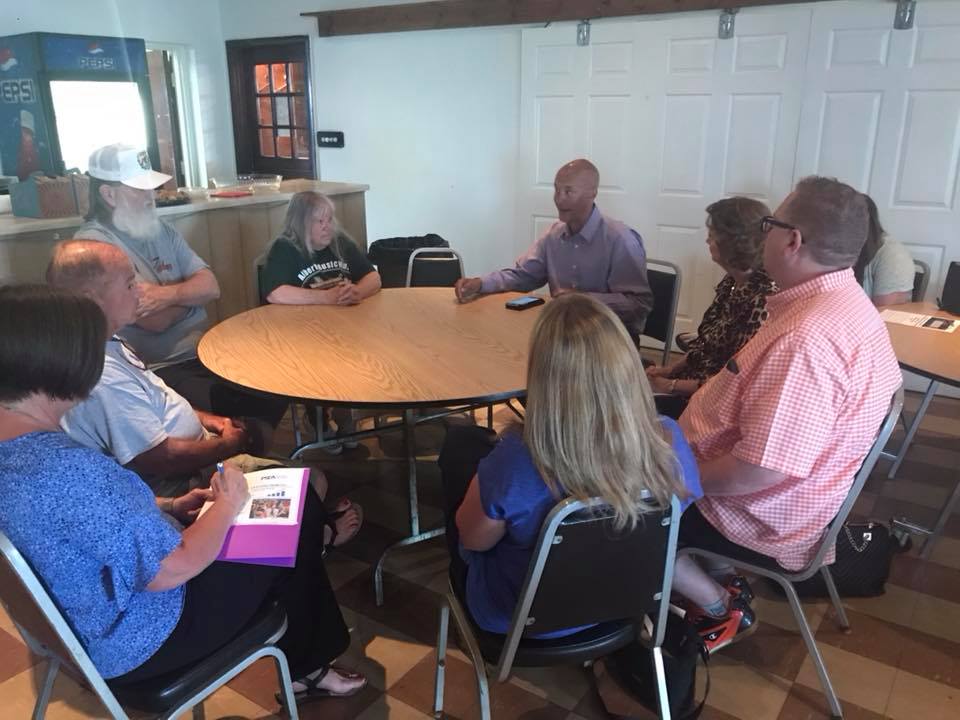 Last week I traveled throughout Fayette and Westmoreland counties speaking to constituents as part of my Coffee and Conversations series. These events gave me an opportunity to speak to constituents about the steps we have taken this year in improving our communities.
Thank you to the people who came to events in Uniontown, Scottdale, Connellsville, Perryopolis, and Brownsville to speak with me about their thoughts on the direction of our Commonwealth.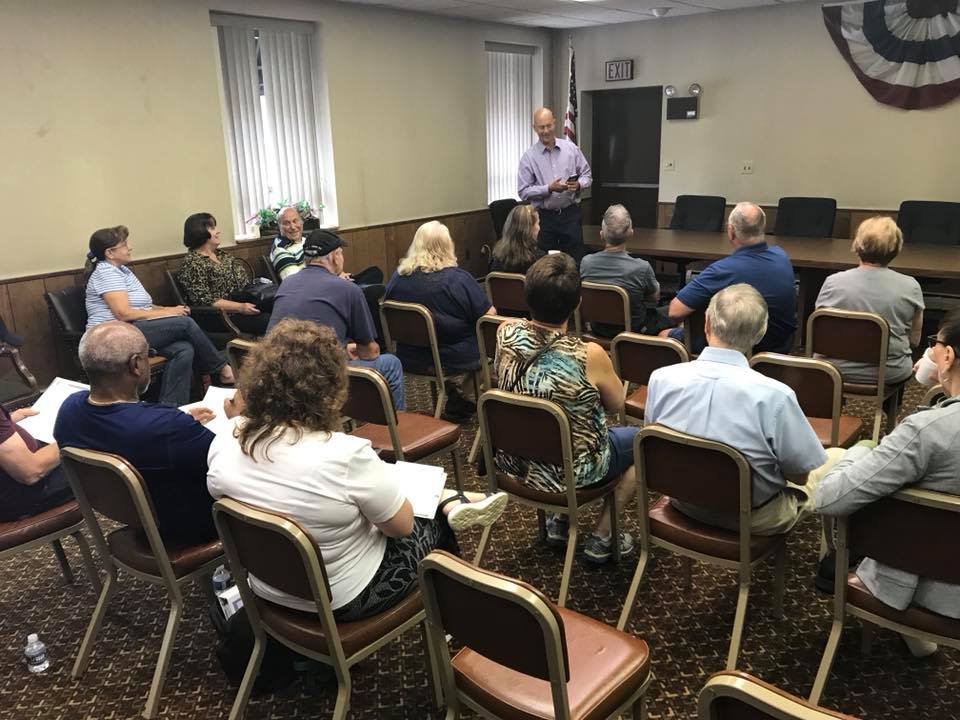 If you live in Somerset County, keep an eye out for a list of events like this to be announced at the Somerset County Fair.
For some details about what we discussed, check the Daily Courier articles from August 9th.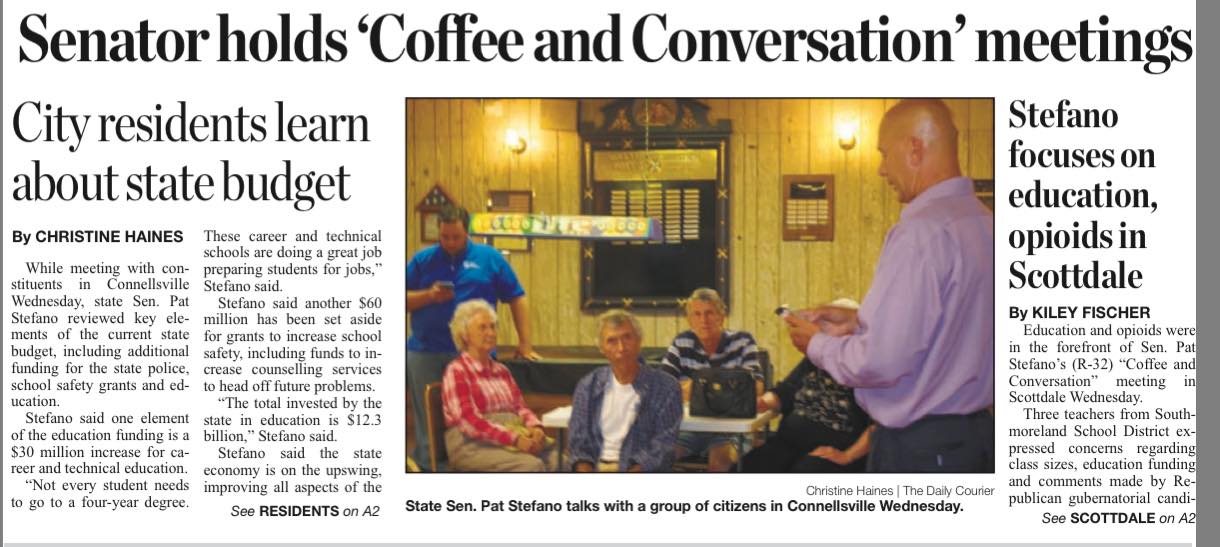 Farm Tour in Somerset County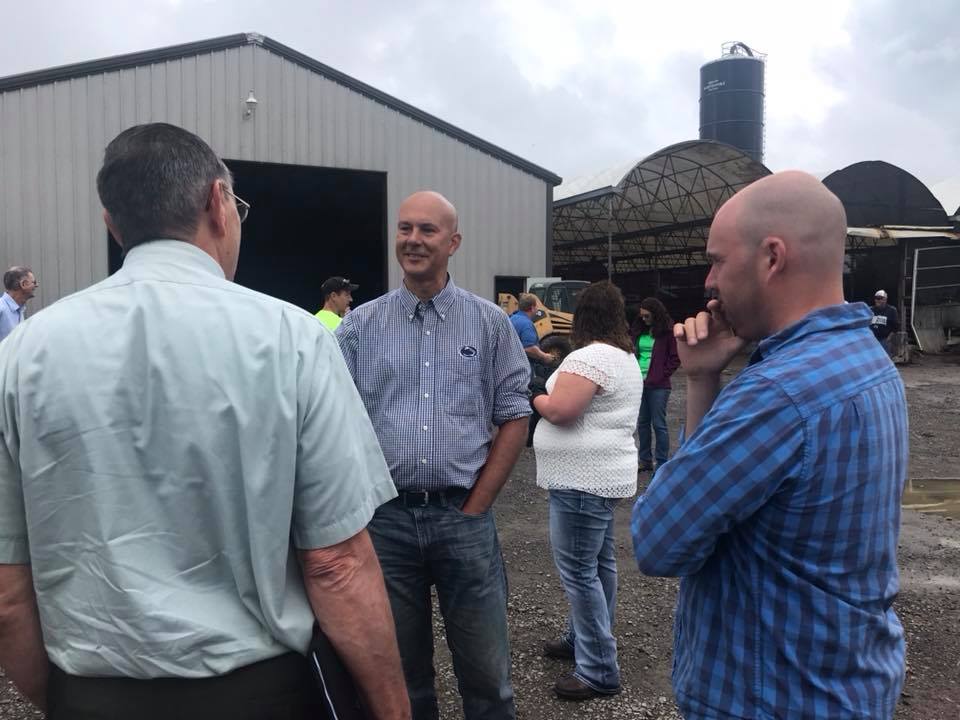 I was glad to be able to participate in the Somerset County Farm Bureau's annual Legislative Farm Tour. It was good to see so many local, county and state officials or their representatives and farm bureau members talking about the issues important to farmers.
This year's event was held at the Hunsberger Farm, a 200-plus-year-old farm near Davidsville that is steeped in area history and tradition. Today, they operate a 1,600 acre farm of soybeans, corn, wheat, and livestock. They also operate a bed and breakfast on the farm.
These events are a good time to hear about the concerns of farmers. Top amongst those concerns voiced at the event was over-regulation by the government towards these farms. It was good to listen to what the issues are and in order to make sure I am mindful of that when legislation comes up or when amending legislation. Agriculture is Pennsylvania's largest industry, and it was good to hear how I can be helpful to our local farmers during my time in Harrisburg.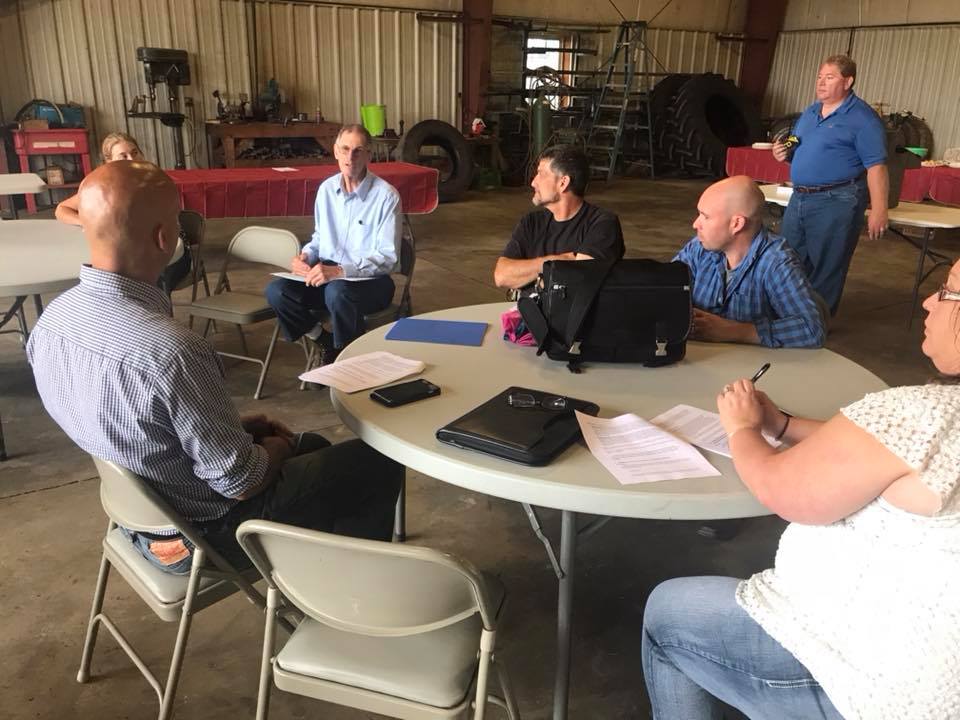 Around the District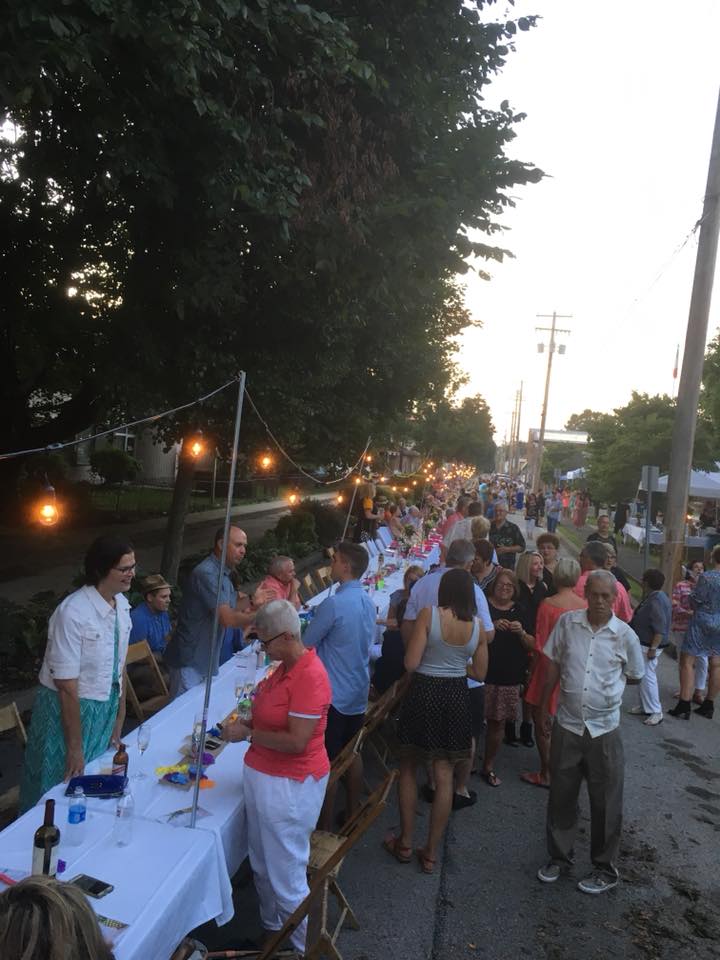 Wonderful evening last night as Tina and I joined 265 others for dinner in downtown Connellsville. Savor the Avenue, an event of the Connellsville Chamber, creates Connellsville's longest dinner table with fine meals from local restaurants.