In this Update:
Stefano to Host Series of Coffee and Conversation Events
Legislative Review: Combatting Human Trafficking
Preserving Services for Seniors & Adults with Disabilities
Sunshine Act Amendments Go Into Effect on Sunday
Reducing the Impact of Invasive Species
Hearings Begin on Department of State Controversies
Senator Stefano Honors Employer Support for National Guard
School Buses are Back on the Roads
162 Years Ago This Week Pennsylvania Strikes Oil
Around the District
---
Stefano to Host Series of Coffee and Conversation Events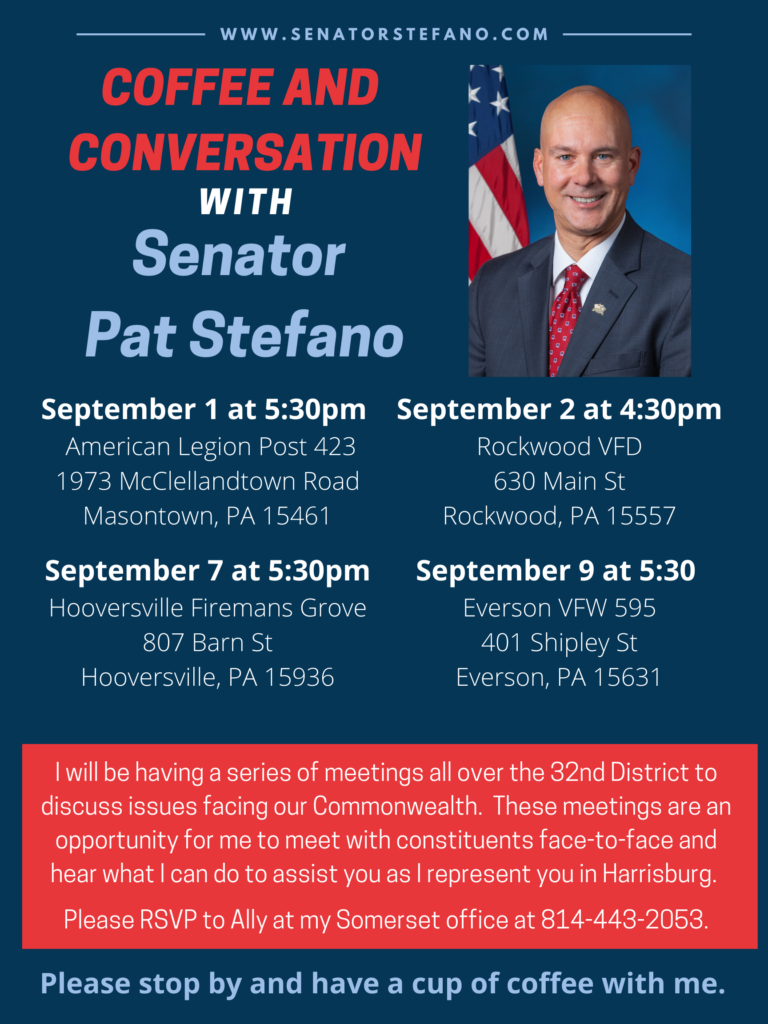 I will be hosting a series of Coffee and Conversation events across the 32nd District to meet with residents face-to-face and hear about the state-related issues that matter to them.
The first in the series of events will be held on Wednesday, Sept. 1, at 5:30 p.m. at the American Legion Post 423, 1973 McClellandtown Road, Masontown.
Another event will be held on Thursday, Sept. 2, at 4:30 p.m. at the Rockwood Volunteer Fire Department, 630 Main St., Rockwood.
The third event will be held on Tuesday, Sept. 7, at 5:30 p.m. at the Hooversville Firemans Grove, 807 Barn St., Hooversville.
To finish the series, the final event will be held on Thursday, Sept. 9, at 5:30 p.m. at the Everson VFW 595, 401 Shipley St., Everson.
Government best serves the people when they take an active role by communicating their needs and priorities, so I look forward to hearing about everyone's priorities and concerns so I can most effectively represent the district in Harrisburg. I hope the informal setting will help residents feel comfortable sharing their perspectives.
Residents are asked to RSVP to Ally in Sen. Stefano's Somerset office by calling 814-443-2053.
Legislative Review: Combatting Human Trafficking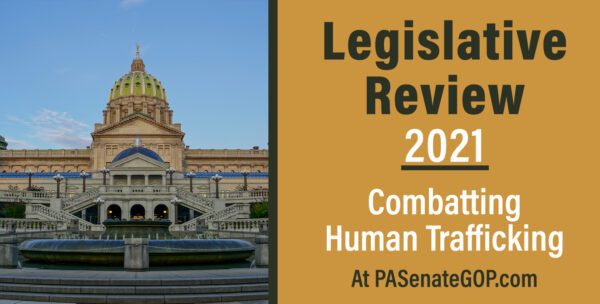 The General Assembly enacted several measures in recent years to combat human trafficking. That effort has continued in 2021 with the passage of measures to prevent this hideous practice and help victims.
Act 32 of 2021 prohibits defendants from introducing evidence of a human trafficking victim's past sexual victimization in any human trafficking prosecution.
Act 38 of 2021 requires that a court consider whether a party or member of that party's household has been convicted of human trafficking prior to awarding child custody.
Act 45 of 2021 requires any offender that subjected a minor to sexual servitude (human trafficking) to undergo treatment while in prison, helping to reduce recidivism.
Act 52 of 2021 permits expert witnesses in cases of domestic violence and human trafficking.
You can find a full list of bills of note passed by the Senate in 2021 here.
Preserving Services for Seniors & Adults with Disabilities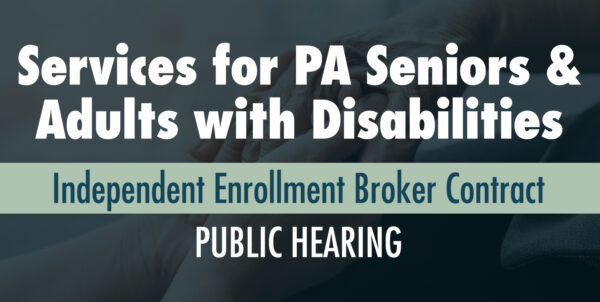 The Senate Aging & Youth Committee and the Senate Health & Human Services Committee held a joint public hearing with the House Human Services Committee and House Aging & Older Adult Services Committee this week on an issue affecting Pennsylvania seniors and adults with disabilities.
The hearing focused on the intent of the Department of Human Services (DHS) to contract with the firm Maximus US Services as its independent enrollment broker as part of the commonwealth's Medicaid enrollment process. Members discussed the impact it will have on seniors and adults with disabilities. DHS was unable to testify due to ongoing litigation.
The panels heard about the problems caused by shifting the process from local contacts to an out-of-state vendor. You can view hearing video and testimony here.
Sunshine Act Amendments Go Into Effect on Sunday
Local municipal and county governments, agencies, school boards, and public bodies all across Pennsylvania will soon need to follow new amended Sunshine Act guidelines as amendments to Act 65 go into effect on August 29, 2021. These amendments were made through Senate Bill 554, which I sponsored.
The modifications require that organizations now:
Post an agenda at the meeting's location and on a website (if applicable) at least 24 hours in advance,
Make agendas available to anybody attending a meeting
Describe on the agenda – in plain language – any matter on which the board will or may deliberate or take official action.
Boards will only be able to vote on matters that are listed on the agenda, with a few exceptions:
Real or potential emergencies where an immediate danger exists to life or property,
Subjects that can be proven to have arisen within the previous 24 hours, as long as they do not involve expenditure of funds or entering into a contract or agreement,
Issues raised by a resident or taxpayer during the meeting, but only to refer the matter for future action or discussion, and small matters.
Our public is more engaged in how we craft our laws these days, especially how we're conducting our meetings. They want to be more involved, especially with all the online access they have.
Government is most effective when the people it is designed to serve take an active role, and my bill would help facilitate that. It's important that as Pennsylvanians become more interested in government, we ensure they are provided with information about what will be considered to effectively participate in the issues that matter to them.
Reducing the Impact of Invasive Species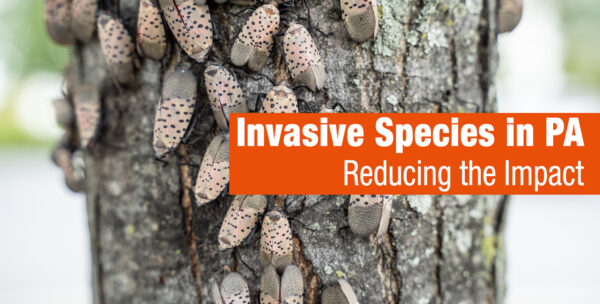 Reducing the impact of invasive species on Pennsylvania's economy, agriculture and natural resources was the topic of a hearing by the Center for Rural Pennsylvania this week.
The Center for Rural Pennsylvania is a bipartisan legislative agency made up of Senate and House members, and others, that serves as a resource for rural policy within the Pennsylvania General Assembly.
In 2019, the negative economic impact of the spotted lanternfly was estimated to be $13.1 million. Other invasive species include the gypsy moth, emerald ash borer, hydrilla and reed canarygrass.
The panel heard from the Pennsylvania Department of Agriculture, Pennsylvania Department of Conservation and Natural Resources, Pennsylvania Fish and Boat Commission, Penn State Fruit Research and Extension Center and other experts. You can watch the hearing here.
Hearings Begin on Department of State Controversies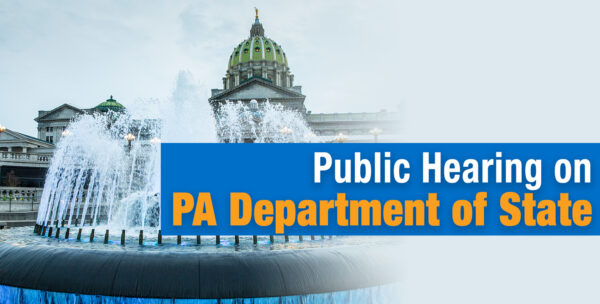 The Senate State Government Committee held the first in a series of hearings reviewing controversial actions recently undertaken by the Department of State.
The first hearing discussed post-election audits undertaken by the Department of State after the 2020 election with Acting Secretary of State Veronica Degraffenreid. The panel heard from the acting secretary, Deputy Secretary of Elections and Commissions Jonathan Marks and members of the department's Risk Limiting Audit Work Group.
The State Government Committee will hold five additional hearings prior to the confirmation hearings for Acting Secretary Degraffenreid, covering the following:
The failure to advertise a constitutional amendment protecting victims of childhood sexual abuse,
the department's last minute, confusing guidance to counties before the 2020 election,
the 2021 Primary ballot questions that were widely criticized as biased,
the difficulties experienced by counties during the 2021 Primary,
and the lackluster performance of the Pennsylvania Licensing System for doctors and other professionals.
Senator Stefano Honors Employer Support for National Guard
I joined Senate President Pro Tempore Jake Corman (R-Bellefonte) in introducing a resolution this week designating the week of August 15-21 as Employer Support of the Guard and Reserve Week in Pennsylvania.
Senate Resolution 157 pays tribute to the thousands of Pennsylvania employers that hire and make accommodations for members of the Pennsylvania National Guard and Reserve components of the U.S. military. The resolution also recognizes the service and sacrifice of the brave men and women who serve in these positions.
It is essential that Guard and Reserve members have the support of both their families and employers so that they can focus on their mission. With this resolution, we pay tribute to the thousands of Pennsylvania businesses who go out of their way for the service members they employ – whether it is for drill weekends or called to service.
"National Guard and Reserve service members play a key role in protecting our national security and ensuring the readiness of our military," Corman said. "The brave men and women who leave their homes and families to answer the call to serve deserve our deepest respect and admiration, and we are fortunate that so many employers help to sustain that model by supporting their employees."
Employer Support of the Guard and Reserve Week is also recognized nationally.
School Buses are Back on the Roads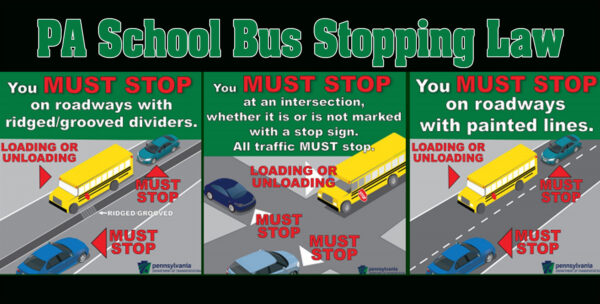 Children are returning to school, which means school buses are back on the roads.
Motorists must stop at least 10 feet away from school buses that have their red lights flashing and stop arm extended. PennDOT has a breakdown of the state School Bus Stopping Law, as well as tips for parents and students for getting to and from school safely.
162 Years Ago This Week Pennsylvania Strikes Oil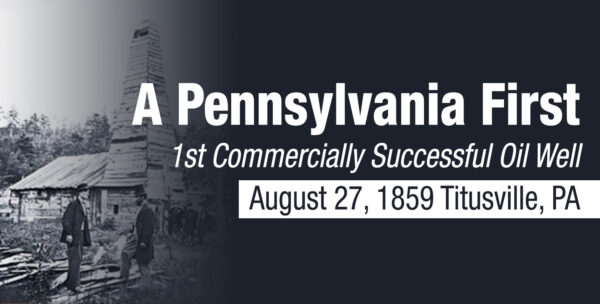 On August 27, 1859, the world's first commercially successful oil well produced black gold near Titusville, Pennsylvania.
Edwin Drake, a former railroad conductor, encountered so many problems before he succeeded that his well was nicknamed "Drake's Folly." His financial backers had quit on him and he took out a loan to keep the project going to completion.
The legacy of the Drake Well was creating unprecedented interest and investment in oil drilling, refining and marketing. Pennsylvania would go on to be a key producer of coal and natural gas, and today includes wind and solar power in its energy portfolio.
Around the District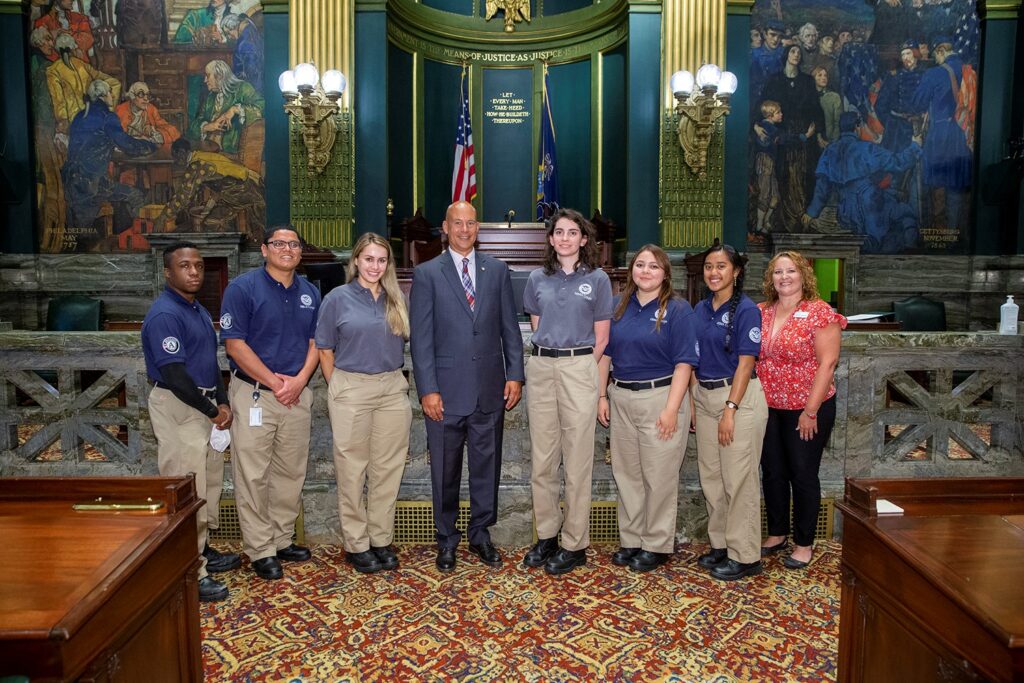 On Tuesday, I met with a group of college students that are members of FEMA Corps. FEMA Corps — which is affiliated with Americorps — is a team-based service program that gives 18‐24‐year‐olds the opportunity to serve communities impacted by disaster while gaining professional development experience. We had a great discussion regarding the responsibilities of the Senate Veterans Affairs & Emergency Preparedness Committee, emergency management in Pennsylvania, as well as the role of the Red Cross in emergencies.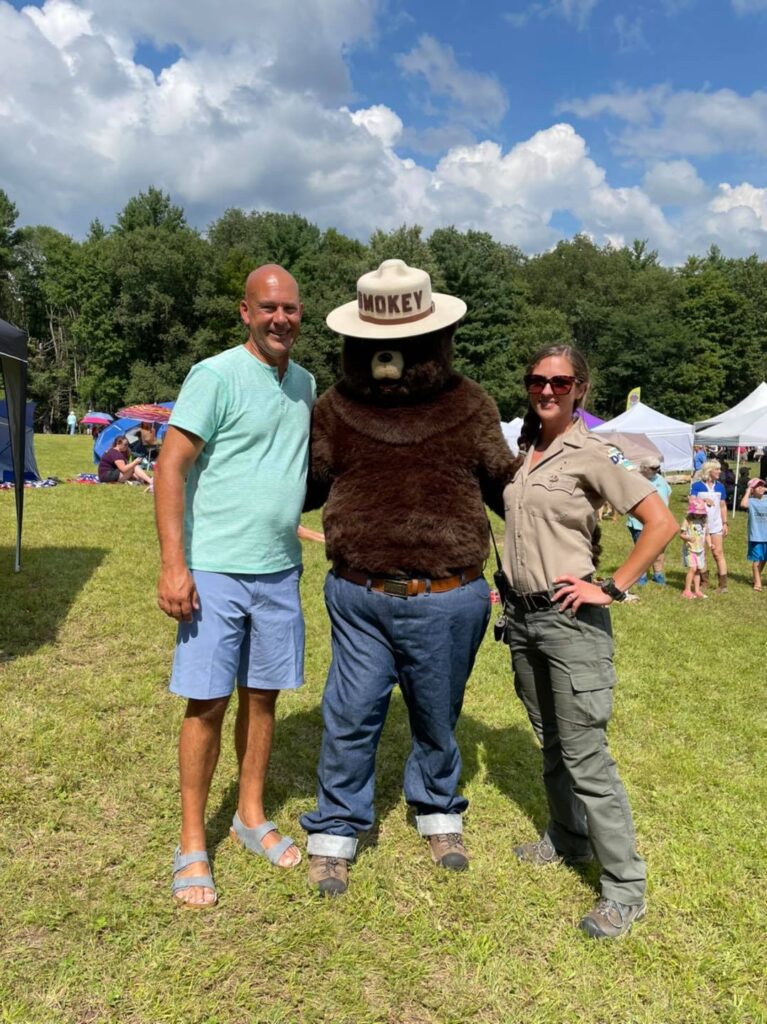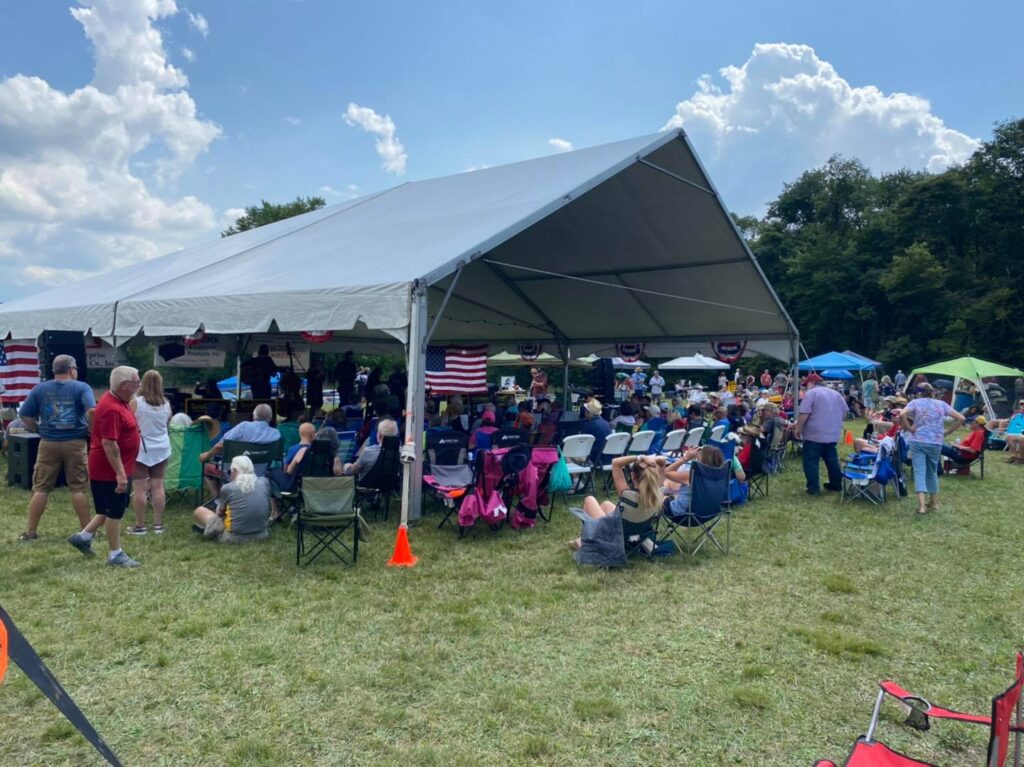 Nothing says "Welcome to the Laurel Highlands" more than a Bluegrass Festival. Special thanks to Dept. of Natural Resources and the sponsors for bringing this free festival to Laurel Hill State Park.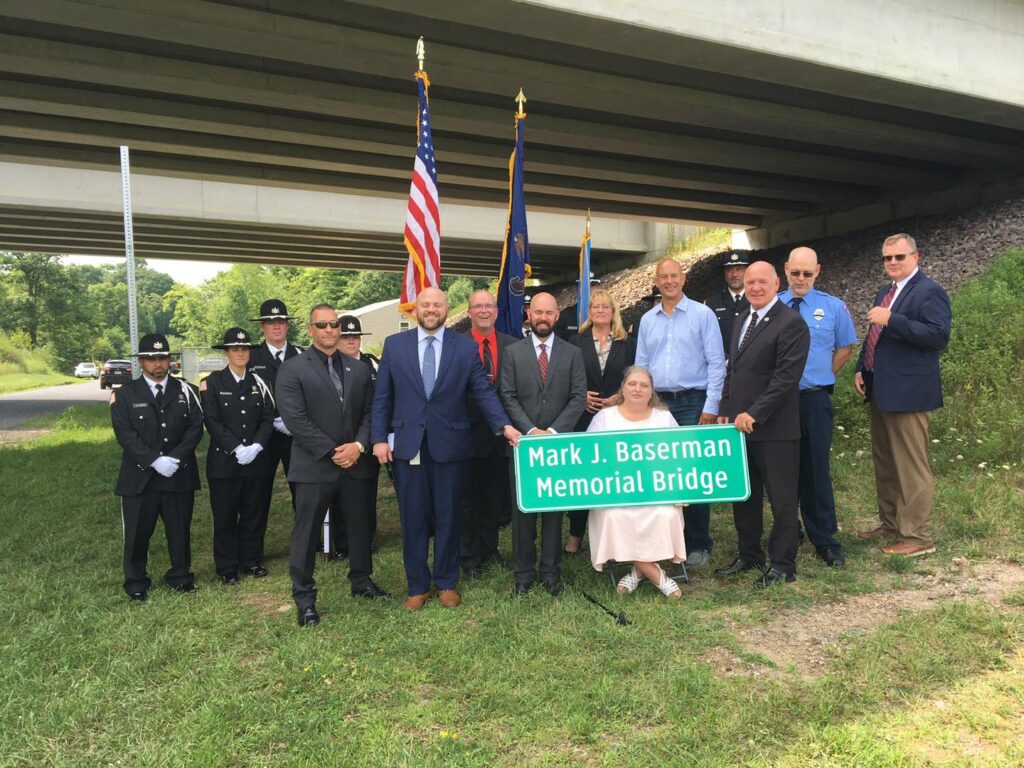 Representative Carl Metzgar, Rep. Jim Rigby, and myself dedicated the Walters Rd Bridge by SCI Somerset for fallen Corrections Officer Sgt. Mark Baserman. I'm hopeful that everyone who sees this sign remembers the risk our men and women take each day when they answer the call to work in our prisons. Lessons learned from this tragedy will make their work safer. Let us not forgot the price that Mark and his family paid.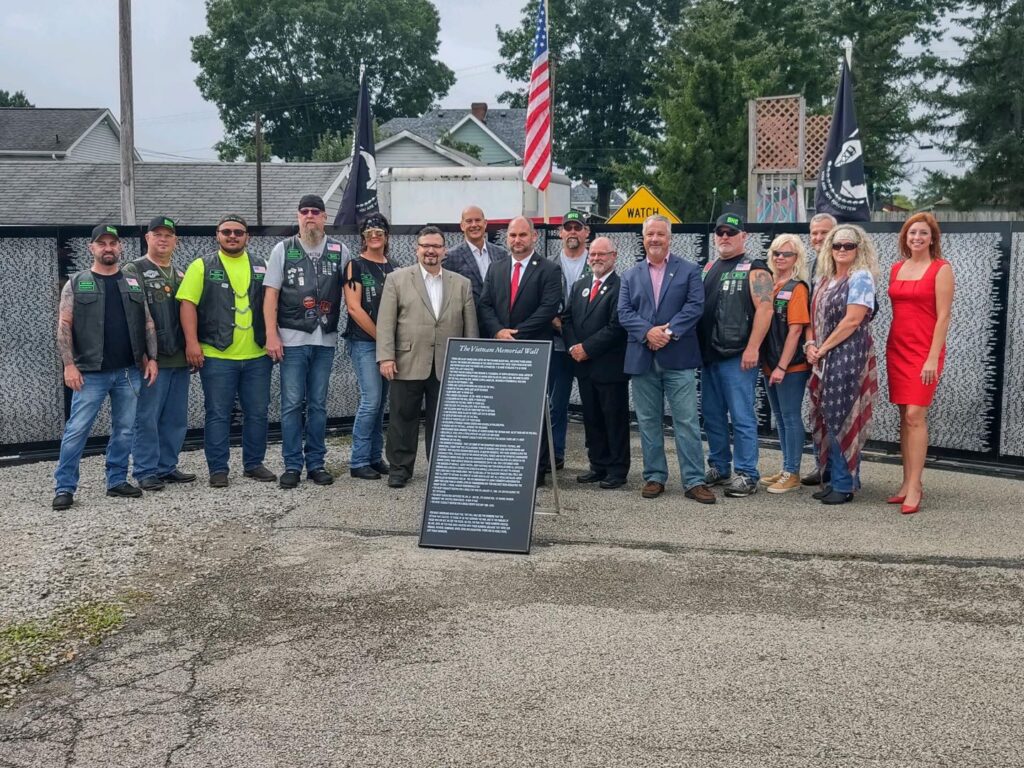 Special "Thank You" to the Bikers Helping Others organization in Washington Township, along with generous sponsors, that made the arrangements and then escorted the Vietnam Traveling Memorial Wall to the Washington Township VFD. It was an honor to be at the Washington Township VFD social hall lot to remember the 58,000+ names of our brave military men and women that lost their lives fighting for this country.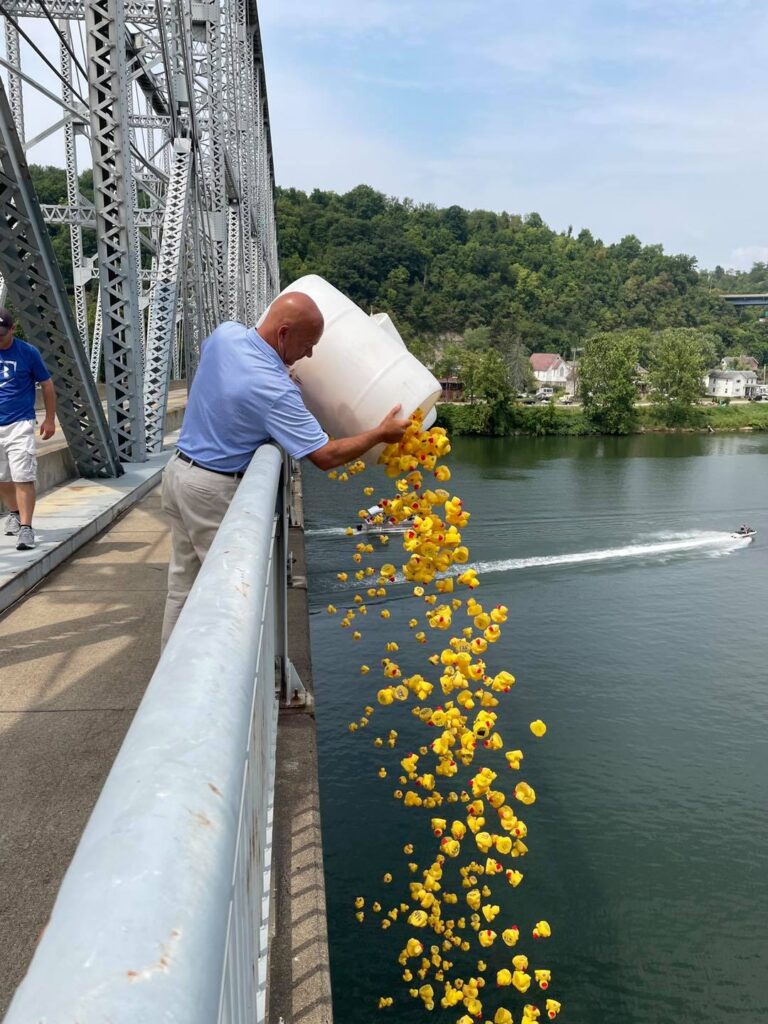 The ducks were racing in Brownsville! I joined Mayor Ross Swords to start the Duck Derby. Many joined in the fun at the Wharf and the Square for music, food and vendors.